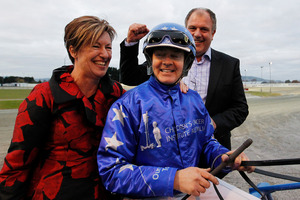 Mark Purdon may have single-handedly saved the Jewels from being ripped away from Cambridge.
Well, almost single-handedly. Smolda and a eye-popping national record helped.
Purdon and his exceptional three-year-old unleashed the performance of Jewels day on Saturday and one of the most aggressive drives of Purdon's career when they brutalised their opponents.
Shaking off a lung problem which cost punters a fortune at Alexandra Park eight days earlier, Smolda confirmed he is the best of this season's classic crop.
He lost the early speed duel with fellow Derby winner and hot favourite Ideal Scott but Purdon was belligerent, letting Smolda pace as fast as he could for as long as he could.
That left his rivals gasping five lengths in arrears as Smolda paced 1:52.1 for the mile, equalling Kiwi Ingenuity's national all-comers record at the chilly end of the day.
It was one of the greatest performances ever by a three-year-old of any gait in this country because behind Smolda were five group one winners. A long way behind. But as elated as Smolda's connections were, there should be plenty of Waikato harness racing fans just as happy.
Because the performance will be their ultimate defence against what is certain to be a barrage of criticism of the Cambridge track.
For all the wonderful stories of 90-1 local winners, first-time victors from Southland and a horse who started her career in, of all places, Tasmania, the undeniable fact of Jewels day at Cambridge is this: if you draw awkwardly, you need a miracle.
All of the winners came from the first four at the bell and seven of the nine led or trailed.
Making it even less visually appealing was that most horses in the second half of the field made little or no ground and punters on anything beyond midfield didn't even get a chance to yell at the TV for their money.
Punters really, really don't like that.
HRNZ has already flagged a major review of all aspects of the Jewels and the calls from the South to have the series based exclusively in Ashburton will be loud and lasting.
And they will get backing from Australia, where Saturday's meeting got plenty of attention but the tightness of the track and its leader-bias was panned.
The one silver bullet Cambridge may have left to fire is Purdon's drive and Smolda's performance.
While not everybody has Purdon's equine weaponry - okay, nobody else does - the race showed that small track racing can be amazing when drivers are 100 per cent positive.
It works at Yonkers in New York and Solvalla in Stockholm, but many of our horsemen have been raised on patience being a virtue.
At Cambridge, patience makes you a victim.
There are 1000m tracks in Australia, most notably Melton, where horses can come from off the speed because of more attacks leading to faster middle sectionals.
But when you cross often conservative driving with high-class horses who don't stop on a 1000m track, you get $1.2 million worth of races won predominantly at the barrier draw.
Purdon and Smolda showed it doesn't have to be that way. Whether that saves the Jewels at Cambridge only time will tell.