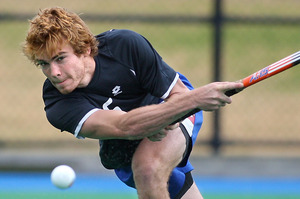 The New Zealand men's hockey side celebrated their historic win at the Sultan Azlan Shah Cup in low-key style, choosing instead to focus on some Olympic-sized aspirations.
The Black Sticks beat Argentina in this morning's final in Malaysia, with a drag flick from Andy Hayward enough to separate the sides and secure a maiden title for New Zealand at the annual tournament.
But captain Dean Couzins said, rather than revel in their success, his side were reserved in their celebrations - with their eyes immediately switching to the year's main prize.
"It was a pretty quiet night," he said. "We've had quite a long tournament - seven games in 10 days - so everyone was feeling pretty tired. But it was nice to be able to sit back and relax with the boys and have a few laughs.
"We've got loftier things to play for this year but it's nice to get this one."
No prizes for guessing the heights Couzins and his team were targeting. The spectre of the London Olympics looms large over many New Zealand athletes and, with their first game in eight weeks' time, it is no different for the Black Sticks.
Couzins felt this tournament both the ideal preparation for London and a handy confidence boost as New Zealand seek their first hockey medal at an Olympics since the famed 1976 gold medal-winning men's side.
"I think we're where we want to be heading into the Olympics, in terms of our preparation and how we're playing," he said. "This tournament has lifted [our confidence] even more - we beat some sides we could play in the Olympics and we put in some good performances."
Between the Sultan Azlan Shah Cup and December's Champions Trophy - in which New Zealand, as hosts, finished fourth - the Black Sticks have now tested themselves against nine of the other 11 teams at the Olympic tournament, something Couzins saw as imperative.
"We had a good tournament at the Champions Trophy, where we finished fourth and got some results against some top-ranked sides, and that gave us a lot of confidence. Now we know what we're going to be up against in London, we'll take some positives from that."
Another positive was the way New Zealand grafted out the result this morning despite a less than stellar performance. New Zealand were made to work for their trophy by a side they had thumped 5-2 in pool play, converting their only penalty corner and defending doggedly to claim the spoils.
"It's good to win games without putting out your best performance," Couzins said. "We've played pretty well over the course of the tournament, and at this stage it's about getting the result more than anything.
"A lot of us have been coming to this tournament for a while now so it's great to finally win it. We've watched a few too many finals over the years, so it was awesome to finally play in one and get the win.
"It's great to be sitting on the bus with the trophy beside you."
The team will return with the trophy to New Zealand, where some players face a nervous week ahead of the June 12 announcement of the Olympic squad.
"It's going to be a tough next 10 days for the guys," Couzins said. "When the team gets named there's going to be a few disappointed guys and that's going to be tough - but there's no way around it, really."
- APNZ