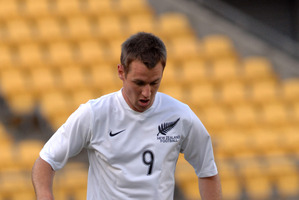 Teams will always pick substance over style when it comes to the World Cup and it's the same for the All Whites who might have played unconvincingly in their qualifiers but still have two wins from two.
When Fiji and the Solomon Islands drew 0-0 in an exciting late game, it guaranteed the All Whites a place in the semifinals of the Oceania Nations Cup and, with it, progression to the home-and-away World Cup playoffs that await the top four teams at this tournament.
But that was always virtually assured and they are keen to also nab qualification for next year's Confederations Cup by winning the Nations Cup
The All Whites played well in patches against Papua New Guinea today, and scored two good goals to Shane Smeltz and Chris Wood, but they also came under considerable pressure from unfancied opposition.
For a period either side of halftime, PNG forged out a number of decent chances and only a combination of poor finishing and scrambling defence kept them scoreless.
They grabbed their goal in the 88th minute when Neil Hans converted a penalty after Tony Lochhead was adjudged to have handled in the box.
It caused some anxiety in the All Whites camp and it's an emotion they will have to get used to for the rest of the tournament.
Opposition teams lift when they play New Zealand and the standard of island football continues to improve to narrow the gap.
"That's good for us,'' coach Ricki Herbert said. "From our perspective, it keeps us where we need to be. The performances are going to have to be there to get through. That's the challenge we face but two from two, it's a good start for us.''
They have done it in debilitating conditions and today's game kicked off at noon in 39 degree heat.
The players were already drenched in sweat by the time Smeltz met a pinpoint Jeremy Brockie cross with a diving header to open the scoring after two minutes.
At that stage it looked like the afternoon would be a comfortable one but PNG, in the same way Fiji did in the first game, worked their way into the match with their quick movement of ball and feet.
It meant the All Whites became increasingly frustrated, as passes went astray and players were on different wavelengths.
Herbert had hoped this game would see his side play with more fluency and help them gain momentum in the tournament. They needed a second goal to ease the pressure and it came in the 53rd minute through Wood, who coolly slotted home from an excellent Smeltz pass on the break.
Only Wood and Smeltz celebrated near the goal - for the rest it was too much effort and they met in the centre circle.
The All Whites eased off and Herbert even brought on Tim Payne and Tim Myers but they were fortunate PNG scored too late to put them under even more pressure.
"We played extremely well, created some good chances and, against a good side like New Zealand, you need to take those chances,'' PNG and former Australia coach Frank Farina said. Today we didn't. I think New Zealand had maybe three chances and took two. But we matched the best team in Oceania.
"It's very difficult for New Zealand. They are expected to win every game and expected to win well. When they don't, they get criticised. I think they will definitely make the final and regardless of who they play they would have to be favourites purely on their experience.''
They still are but other teams will fancy their chances, particularly in the conditions.
"I thought we were good,'' Herbert said. "We have six points and that's what we wanted.''
And that's the most important thing.
New Zealand 2 (Shane Smeltz 2, Chris Wood 53) PNG 1 (Neil Hans 88 _ pen). HT: 1-0
- APNZ