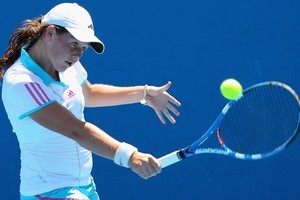 New Zealand junior No 1 Emily Fanning lost her first round singles match at the French Open at Roland Garros overnight.
Fanning, ranked 53 in the world for juniors, was beaten 6-2 6-1 by American 16th seed Alexandra Kiick.
The Kiwi made a bright start and led 2-1 with a break in the first set before Kiick took control, converting five of her six breakpoint chances in the match.
Fanning said she struggled to find any rhythm but despite the loss would take plenty out of her first main draw experience at the grand slam.
"I actually never really got settled in the match. I was a bit nervous and really wanted to do well. But it was really tough - she gets everything back and moves really well, and as soon as I hit a short ball she pounced.
"This is my first French Open and I got another experience under my belt.
I just need to find ways how to deal with myself when I am feeling like this, and it is all a learning experience out there for me at the moment."
Fanning must quickly get ready for doubles, where she is teaming up with Russian Alina Silich.
She has had success in doubles, with two titles and a runner-up in the lead up to Roland Garros, and will tackle the French pairing of Lou Brouleau and Jade Suvrijn tomorrow morning.
"I have practised with [Silich] a few times now and she is solid from the baseline," Fanning said. "I love being at the net and being really aggressive, so we should be a good combination."
- APNZ