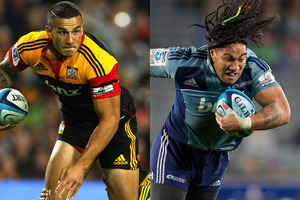 Sonny Bill WilliamsSonny Bill Williams has heard all the talk about his game maturing and how Ma'a Nonu will be rested for Saturday's first test against Ireland.
The midfield back has thrived in his shift to the Chiefs and working between Aaron Cruden and Richard Kahui, but is not convinced he will wear the black No12 jersey at Eden Park.
"No one has it in the bag, and you never know what the coaches want," he said after yesterday's squad disclosure.
"You have just got to keep turning up each week and playing good footy."
Williams followed that concept strongly in his weekend duel with Nonu as the Chiefs stayed top of their Super 15 conference. The pair had clashed and cajoled each other at several national training camps until Saturday night's duel at Albany before both were picked in the All Black squad.
"There was a lot of emphasis on me and Ma'a, but that's how we trained.
We push each other, and last night was no different. It brings out the best in us."
If Williams makes the cut he will need to be at his best when he marks Irish skipper Brian O'Driscoll.
"I've seen him play a bit. He is very classy," Williams agreed.
"He is one of the best players in the world with all the skills of a 10 and the physicality of a loose forward, so that will be a big challenge for us."
Williams had thrived on his workload and the style the Chiefs were playing this season.
"We just enjoy footy, you know, and a lot of us were new to the franchise," he said.
"There was not too much expectation on the Chiefs doing well this year and everyone is comfortable. We had nothing to lose. We bonded well and I think that is the biggest thing going for us.
"When we go to training it is not like a job. It is just like training with your best mates and having a good laugh. Some teams can get a bit serious, but we have a balance."
Dave Rennie, Tom Coventry and Wayne Smith had simplified the plans and systems and found the right team balance.
"That is where I feel I have made the most advances this season, in my game understanding," Williams said.
"They are the best group of coaching staff I have been involved in. We are halfway to the finals now. We want a home semi and to win this thing."
He felt the All Blacks would come up with an amended version of last year's plans which would prove to be an entertaining watch.
Richie McCaw will lead that team into battle as he settles into mentoring rising young loose forward Sam Cane.
They opposed each other when Cane broke into Super rugby last season and McCaw had heard plenty of praise about the 20-year-old's instincts and skills.
Former Chiefs coach Ian Foster thought the young flanker had the right mix of skills to make it at test level, and it was up to the rest of the squad to help him learn as quickly as possible.
McCaw was a similar age when he was picked to tour Ireland, Scotland and Argentina in 2001 and was promoted ahead of Marty Holah to begin his decorated test career.
"When I look back, I think, 'jeepers,how did I do it back then'," McCaw confessed.
"But a lot of it comes from enthusiasm and willingness to just get out there and climb into it, and I think that's what you have to do. You have to back yourself, and what you know now is good enough but you will keep picking up stuff all the way through.
"I have to give Sam as much time as I can. It is part of my responsibility.
"There are five loosies and we all have to help and make sure someone who is new to the group, like Sam, fits in quick."
McCaw remembered the help he got on debut when he played alongside Crusader loosies Reuben Thorne and Scott Robertson.
More than a decade on and 103 tests later, McCaw expects Ireland to be hugely competitive this month.
"We have three goes in a row, which means we have to keep battling. We have to get our house ready early and put in a strong performance first up."