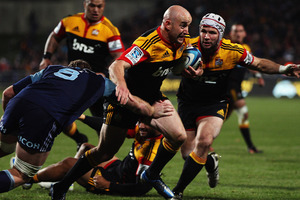 Most agree that a three-week hiatus as the Super 15 enters the crunchy part of the season is at best an irritation, at worst a momentum killer.
One team might beg to differ.
On Saturday night the Chiefs played like a team that needed to temporarily log off and reboot.
Forget all the guff about there being no such team as a bad Blues team at home. This is a bad Blues team.
They might have been last in the queue when Santa handed out good fortune and they might have suffered more than their share of injuries, but two wins from 14 matches is a statistic that does not lie.
Yet the Chiefs did everything but hand out envelopes to the Blues, inviting them to their third win.
The visitors scored some magnificent tries and left Albany five points richer than when they arrived, but that did not look like a team expecting to be playing on August 4.
Their defensive line, a source of pride during the first eight rounds, was horribly disfigured and the Blues seemed to find it all too easy to find where Aaron Cruden was standing and run at and around him.
Their discipline, an occasional bugbear, fell to pieces, with two players sent to the sinbin. Referee Chris Pollock found them in breach of the rulebook on 16 occasions.
The yellow cards could not have come at worse times. The first, for a Maritino Nemani tip tackle, came as the Chiefs were gaining dominance and immediately after Blues flanker Steven Luatua had been sent to the bin. From a position of strength, the Chiefs found themselves on their heels. What should have been a comfortable halftime lead was instead 20-20.
The second was potentially more damaging. The Chiefs had streaked out to a 14-point lead in the game's final quarter, but rather than shut the door, Mike Fitzgerald's flailing outburst swung it wide open.
Redemption is a fine concept, but do not be surprised if the roles of Nemani and Fitzgerald are limited in the tournament's final weeks.
The lineout was better than it was against the Bulls, but it was still a long way short of where it was in the middle of the season.
It's hard to think that the absence of solid skipper Craig Clarke, Tanerau Latimer and Richard Kahui could have made that much of an impact. Instead it looks as if the Chiefs might have an untimely case of vertigo.
To be fair, few expected them to reach such lofty heights this quickly. Sudden rushes in elevation tend to lead to the sort of light-headedness seen at North Harbour Stadium.
Dave Rennie and his band of coaches now have until June 29 to tighten a few bolts up again. They will give the squad a chance to freshen up over the next fortnight, before holding a training camp in Rotorua.
They arrive there in the luxurious position of being top of the table with a heap of room for improvement.