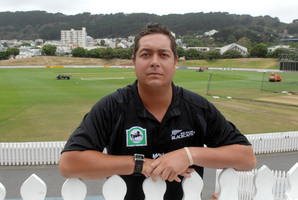 Jesse Ryder's psychologist Karen Nimmo claims her cricketing client's conduct was "exemplary during trying circumstances" playing for the Pune Warriors in the Indian Premier League.
Nimmo attended the tournament for two weeks - as did Ryder's manager Aaron Klee - to provide support for the 27-year-old who has made several well-documented indiscretions involving alcohol since becoming a professional cricketer. He will be left off the New Zealand Cricket contract list due for release in July while he sorts out those difficulties.
Twenty cricketers among the 92 on domestic or international contracts are understood to have sought, or are seeking, psychological support. Nimmo told the New Zealand Herald in March that serious psychological problems in sport are an untapped well which have virtually become a full-time job in the past five years.
Nimmo says the IPL is full of temptation: "It is a party environment but we achieved what we wanted.
I'm proud of his [Jesse's] efforts. We had a plan in place and we stuck to it."
Nimmo did not stay with Ryder the entire time, preferring to base herself in Mumbai and the Warriors' home city of Pune. She wanted to work as someone who could advise when needed rather than cloister him. "Jesse is still allowed to do anything he wants to maintain his independence. He coped well as a person, gradually taking more responsibility. He's grown up a bit."
Nimmo invoked client confidentiality when questioned whether Ryder consumed any alcohol at the tournament but reiterated Ryder was "well supported".
Ryder was one of the better New Zealand performers on the field. He batted through the innings for the first time in his T20 career to help Pune beat eventual finalists Chennai with 73 not out off 56 balls. The Warriors exited early but Ryder still averaged 25.6 at a strike rate of 121 in 11 games.
Nimmo says it would be hard for players not to be affected by the extent of public adulation: "The IPL can tend to be a party game. The atmosphere is festive and people love it. Cricket is a type of religion in India.
"The IPL is an eye-opener on a different sporting scale to anything I've seen before. There is a fair bit of drum-beating and the red carpet is rolled out regularly for the players. They are mobbed, touched and photographed at every turn. They mingle with billionaires and stay in palatial hotels.
"That is not normal for young men. It must be hard to keep your head. Jesse is a modest guy in that way. He just wanted to avoid all that hype."