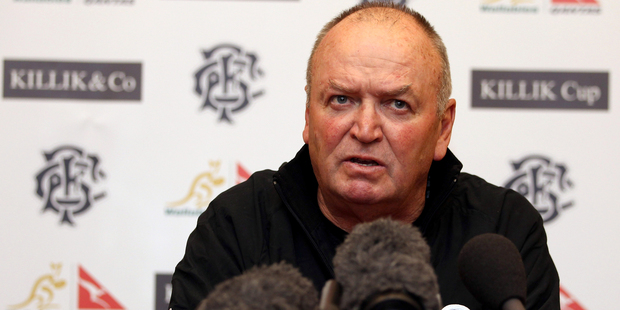 Sir Graham Henry is relaxed and says he wouldn't be spreading his coaching knowledge about if the call had come from England, South Africa or Australia. The World Cup-winning coach is being mauled by the media in his first session in Buenos Aires, as he starts the first of seven weeks as high performance consultant at the Argentine Rugby Union.
"It was an easy decision. I would not have been interested if it was one of our competitors: England, Australia or South Africa. But Argentina, not in the top six in the world, is a different thing. I think it would be great for world rugby if they could be stronger.
"Rugby is a disease and I have it in my blood," he says from the hotel that the All Blacks will be briefly calling home next September when they travel to a city of 14 million.
"But now I don't have the pressure to win."
Henry's happiness is open. After so many years chasing perfection, he is now in a position to assist others, motivated by doing the right thing.
In this case, for Argentine rugby.
Santiago "Tati" Phelan has been the Pumas head coach since 2008.
While he has experienced a lot - both as a 43-test player and national coach - it was deemed necessary he needed some external advice ahead of the new Rugby Championship, even though he'd worked with former French captain Fabién Galthié for a couple of seasons.
Next Saturday, a Pumas team without the best European-based players will be playing Italy and twice against France.
"To have Graham helping us is great; his experience and how open he is has already been a great help. We are hoping to learn from him as much as we can," says Phelan, who embraced the chance to work with one of the world's most successful rugby coaches.
Henry's role with Argentine rugby will tackle two aspects as he explains: "I'll be looking at what they are doing in the high performance area, with their five HP centres and offering advice."
Having started as a school coach and taken every step of the ladder leading to the All Blacks "has given me a vision of every part of the jigsaw", he says.
"I am probably the coach that knows most about development, having coached at all those levels. In 1990, I brought a young Auckland Development XV to Argentina for some very tough games; we knew that we needed to ensure there were sufficient players to sustain the Auckland side of that era."
Olo Brown, Craig Dowd and Ross Nesdale learnt every trick in the front row business, to mention only three of a squad full of future internationals.
"Argentina is already looking after the next group of players. They need more competition, that is a must. The other aspect is to try to assist the coaches of Argentina as best as I can. We are talking about the game and how it is played. It is sharing ideas and that is something I enjoy. Hopefully some of our ideas can trigger things with the coaches and we can produce something we can be proud of.
"Argentinian rugby is in good shape. Los Pumas competed well in the last two World Cups.
"Playing against three of the four top teams in the world is a challenge Argentina needs.
"You improve by playing teams that are potentially stronger than you."
He has done his homework and knows strengths and weaknesses of his new team: "The biggest challenge is how to score tries. Players have big hearts and they give everything for the Pumas and that is a good start. They have backbone and pride and a solid defence."
Test rugby is about winning, yet Henry doesn't necessarily agree.
"It is about getting the process right that makes you win. I am not here to say we need to win three, four or six games. As a group of people, Argentines need to be proud of how the team plays against the best.
"Look at this tournament as a great opportunity rather than how hard it can be. They shouldn't be intimidated."
However, Henry hasn't forgotten where he comes from.
"The NZRU were very supportive. There are some boundaries and I will work within those boundaries," he says.
"I have a lot of respect for New Zealand rugby and they are part of me, so I will not offend those I respect."
Pumas squad named
Argentina has announced a strong squad of 24 European-based players ready for the inaugural Rugby Championship action. The return of Juan_Martín_Hernández, who missed Rugby World Cup 2011 with injury, and of Juan Fernández Lobbe - who broke knee ligaments against Scotland in Wellington last September - are two of the biggest names in a squad that contains 20 players from last year's World Cup.
Missing from the squad are captain Felipe Contepomi and prop Rodrigo Roncero, both first capped in 1998. They are expected to play their last game for Argentina in the June window against Italy and France.
This squad, plus the best home-based players fresh from the test against Italy and the series against France, will swell to a total of 30-33 players and will travel to the US to train at a high performance centre at the start of July.
Every selected player was released by their European clubs.