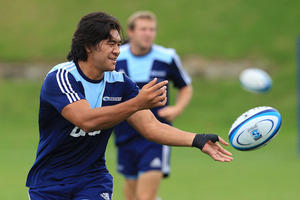 If nothing else, and it probably will be nothing else, the Blues have at least discovered this season that Steven Luatua has a big future.
The 21-year-old has had only a few outings but they have been enough for him to throw himself about and look the part.
Physically imposing and determined to make an impact, Luatua could slide easily into Jerome Kaino's vacant No 6 jersey and hold it for some time.
It wasn't supposed to be this way - but both player and franchise are happy enough at the way things have worked out. A member of last year's New Zealand under-20 team, Luatua was selected in the Blues wider training squad this year.
It was the usual story - he was there to observe and learn; watch the senior professionals and see how they prepare, how they train, what they eat and what they say.
Essentially, Luatua thought he'd be serving an apprenticeship, sitting quietly until next year. But nothing has gone to plan this year for the Blues and Luatua was named to start against the Crusaders at blindside.
It was a terrible night for a youngster to make a debut. The Blues were blown down like the little pig's straw house and, even in this season of bad performances, the one in Christchurch stood out as being the worst.
Not that Luatua can be held responsible in any way. It wasn't easy for him but he managed to be in the right place a lot of the time, held a strong body position over the ball and made some tackles.
There was plenty of enthusiasm from him and more of the same when he backed up the following week against the Highlanders.
The visitors bemoaned their ability to recycle quickly and Jamie Mackintosh wasn't going through the usual courtesy of acknowledgement when he suggested the Blues had done well at the collisions. Luatua was a major factor in that. He brings considerable physical presence - at 1.94m and 109kg, he has the dimensions of an international loose forward - and a simple, refreshing attitude.
"When I first came in [to the Blues], I was in awe all the time, just seeing all the big names around," he says.
"I'm still like that, you know. Even though we haven't had results this year, I'm still loving it and learning a lot. I am learning heaps about the lineout from Ali [Williams] and having guys like Jerome encouraging me has been great."
He mentions both Williams and Kaino in a mentoring capacity because he began the year as one of those hybrid options - someone capable of playing at lock but happier at blindside.
Thankfully, Blues coach Pat Lam has encouraged Luatua to focus on one role only. The hybrid thing never really seems to work - Jono Gibbes, Angus MacDonald, Reuben Thorne, Troy Flavell and Jarrad Hoeata have all dabbled without convincing it's possible to be genuinely test class at both roles.
Luatua lacks the height to be considered a lock at this level. He played at lock alongside Brodie Retallick in the New Zealand under-20s last year but even that was something of a surprise.
"I always played loosie at high school but when it came to rep football, they for some reason always put me at lock," says Luatua. "Playing at No 6 is my favourite role.
"I have watched Jerome [Kaino] play a lot and he is real physical, gets the team going forward and makes the defensive plays. Hopefully I can play half as well as he did. I like to think I can chop people in half but I haven't laid the wood down this year. When I was back at school, all I used to do was carry the ball. I like to carry the ball but I am a lot more focused on my wider role now."
A former pupil at Mt Albert Grammar and a key member of the side that won Auckland's 1A championship in 2009, Luatua is precisely the sort of homegrown talent the Blues are looking for. With the region's talent identification and development system in question, Luatua is the first serious prospect to emerge out of Auckland since Isaia Toeava.
He wants to stay with the Blues and help them turn around next season and he's also conscious of how quickly some 2011 of his team-mates have progressed. There are six players from last year's under-20 team in the current All Black wider training squad.
"Brodie Retallick has been outstanding. Seeing how good TJ [Perenara] has been ... it's a surprise he didn't make the wider training squad. These guys are setting the trend, setting the mark and I am hoping I can catch up with them."
If he keeps playing the way he has been ... he'll catch up all right.