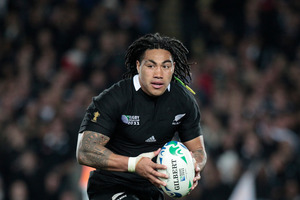 If the All Blacks selectors are planning to choose and start Ali Williams, Piri Weepu and Ma'a Nonu in Saturday's test against Ireland, then I think they have their nuts poised between two bricks.
I know they will be thinking of that first test and will be thinking conservatively and wanting to marshall their experienced players.
I also know that they think they can get those players up to speed in the training camps. I have just one thing to say to that: Phooey. If they have so much sway over Ali Williams, what happened last year in the World Cup when he wasn't playing so hot and started only two of the All Blacks' seven games?
If their form is crap, then they will play crap, whatever spin you put on what colour jersey they are wearing. The All Blacks are hardly desperate for experience, really only in the locking area.
However, when push comes to shove, they are going to need, in games to come, these young guys to come up the scale. I have talked to a lot of ex-All Blacks and former players since the whispers started appearing about the three Blues players going straight into the All Blacks.
All of them have been adamant: why reward someone for poor form? Most of them have said to me that the All Black jersey is all about excellence and while these players concerned have been great servants of New Zealand rugby, no one would apply the word 'excellent' to them right now. Unfortunately, we all have a use-by date, just like a bottle of milk. I had a chat with a famous Auckland All Black who made another good point - he said none of these three are real leaders.
He said that, in his day, All Black teams were full of players who had the ability to take a team along with them; they could pick up a team and lead them higher; they were the sort of players whose presence enticed the others to do better.
"Loey," he said, "The Blues haven't got anyone in their team to do that." I think that was pretty telling. So the All Black selectors are taking a risk in this first test by putting their eggs in the experience basket.
I could be wrong, but no one can tell me that putting Williams, Weepu and Nonu into that team is inspirational. Nonu has been playing rugby for almost a year on end, Williams hasn't been doing it and we all know Weepu's problems.
If you are talking leadership, guys like Richie McCaw and Kieran Read have it. I'd even go so far as to say that Richie's leadership outweighs his form at present.
Sean Fitzpatrick and Buck Shelford always had great leadership qualities but I don't see that in these three or Keven Mealamu - fine player that he is, he doesn't have the same pull as those I have mentioned.
So the Richard Loe 22 to take on Ireland would look significantly different from what we are hearing the Steve Hansen 22 would be. I'd have Sam Cane on the bench after Adam Thomson's poor form on Friday. Ben Smith covers centre, wing and fullback, with Dan Carter covering 12.
Richard Loe's test 22
First test vs Ireland: Tony Woodcock, Andrew Hore, Owen Franks, Brodie Retallick, Sam Whitelock, Victor Vito, Richie McCaw, Kieran Read, Andy Ellis, Dan Carter, Sonny Bill Williams, Conrad Smith, Julian Savea, Hosea Gear, Israel Dagg. Reserves: Keven Mealamu or Hika Elliot; Ben Franks; Luke Romano; Sam Cane, Aaron Smith, Aaron Cruden, Ben Smith.