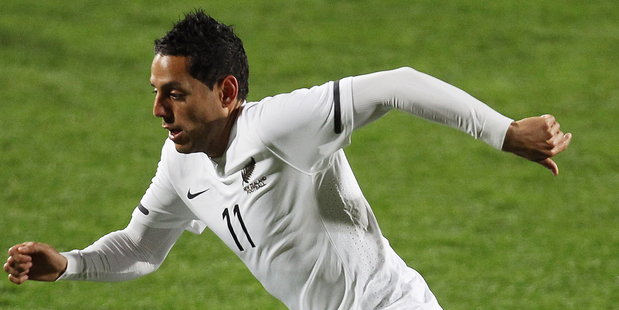 All Whites skipper Tommy Smith's first international goal was enough for the All Whites to start their FIFA World Cup and Confederations Cup qualifying campaigns on a winning note, grinding out a 1-0 result against Fiji in the Solomon Islands today.
Just nine minutes after the midday kickoff, Smith was first to react as goalkeeper Simione Tamanisau - better known to All Whites fans as the player whose visa issues in late 2007 forced the postponement of New Zealand's first 2010 qualifier - spilled a firm Leo Bertos free kick.
"You watch strikers score their goals and you try and do what they do," said Smith.
"I've just gambled that keeper might make a little mistake and luckily for me he did."
The 35 degree heat and sapping humidity took a clear toll on New Zealand, something they will need to deal with for another four games in nine days if they are to defend their OFC Nations Cup title.
"It was tough conditions," said Smith "very humid."
"We managed to get quite the early goal which helped us settle a bit. Unfortunately we couldn't add to the goal but we managed to hold on to the win.
"They got their tails up towards the end. We were defending quite deep towards the end and the energy levels were low but we managed to get through it."
Fiji were never out of the game and grew more threatening the longer it went on, with Paston at his best to parry Avinesh Suwamy's blistering first half free kick.
He also needed another sharp intervention after the halftime break to deny Osea Vakatalesau when the former YoungHeart Manawatu striker was through on goal.
A further save from a dangerous Alvin Singh header earned Paston a knee to the head from Pita Bolatoga and ended his involvement in the match that saw plenty of All Whites take a battering from a physical Fijian side. The Phoenix gloveman is now under medical observation with suspected concussion.
All Whites coach Ricki Herbert was more than happy to start World Cup qualifying on a winning note but is demanding improvement from his side in spite of the suffocating conditions.
"We got the three points. There's a lot to work on but some things we can't change as far the weather is concerned - that was a huge factor today."
"I thought the front third of the pitch could've been a lot better and we weren't as clinical as we could've been. Maybe the game might not have been so tight if we had been."
Next up for the All Whites is Papua New Guinea who faced hosts Solomon Islands in the day's late kickoff with Herbert now awaiting to see how those used today recover over the next 24 hours.
"It might affect what we do personnel-wise. We'll watch the Solomons play Papua New Guinea today and see what starting line-up we need for Papua New Guinea. You certainly need to bring 23 players to these sorts of places."
Group A resumes on Sunday with a Samoa meeting Vanuatu followed by a Francophone derby between Tahiti and New Caledonia.