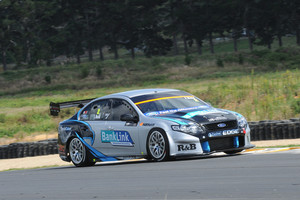 Frontrunner in V8 series is confident ... but he also knows it doesn't take much to miss out on the podium.
Drivers in the V8 SuperTourers series are returning to the battleground of Hampton Downs where the opening round of their inaugural championship took place.
International Motorsports' Jonny Reid will hit the tarmac in qualifying today knowing he is on top of the points table and is the man to beat.
Reid has been quick from day one. He has adapted well to the car and is looking to keep his challengers at bay to clinch the sprint series title.
"It's going to be one of those exciting race weekends, I think," said Reid.
"There's an extra two cars racing this weekend [Angus Fogg and Daniel Gaunt] so it should be really interesting.
"Being out in front is nothing new to me, so having a target on my back doesn't faze me and I've just got to do what I do.
"At the same time, if I look at how things have fallen for me this year, I've been successful in the first two races and then something has befallen me in the third race.
"I've either been run off the track or been hit from behind and the race three win, or podium, has been elusive.
"I'm well aware of where our weaknesses have been so far in the series and we'll focus on them and we'll be fine."
Former New Zealand V8 Champion John McIntyre had an opening round at Hampton Downs to forget. But as is befitting of a three-time national champion, he put his head down and made the best of the next couple of rounds and arrives back at the Waikato circuit in second place in the series.
"The first round at Hampton Downs we had 40kg of fuel in the boot to make the minimum weight and it felt like we had this big trailer on the back when we were racing," said McIntyre. "Now that the minimum weight has been reduced, I'm really looking forward to going back to Hampton Downs. We had an awful car there at the first round and it wasn't a lot of fun to drive.
"This weekend we need to continue our good run of form and hopefully we have a car that starts out fast and finishes fast."
Reigning NZV8 champion Angus Fogg has made the switch to the V8 SuperTourers category and has been burning the midnight oil to get his car ready for this weekend.
It would be fair to say that if it were any other team trying to get a race car built to take on some of the best tin-top racers in New Zealand in a few weeks it wouldn't happen.
But Fogg is one of those old school drivers who can build a racing machine as well as race it.
"The car is built but there are a few bits and pieces that need to be tidied up," said Fogg.
"A lot of people are surprised we've managed to get a car ready for this weekend but there you go.
"There's lots to learn and trying to catch up with the rest of boys is going to be hard but we're going to give it a good crack as we always do. It's going to be a great challenge."
With up to 70 points on offer from qualifying, 210 points for the winner of the first two races, 240 points for the feature race winner and 20 bonus points to the driver with the fastest lap in each race, there are several drivers in the hunt for the championship.