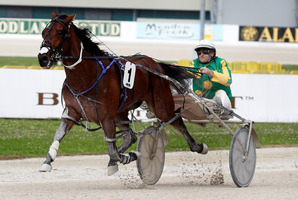 Best multi-bet anchor is Bettor Cover Lover looking for her second Jewels success on this track.
There is one very simple question to ask yourself when punting on the Jewels at Cambridge today - is this horse likely to lead or trail?
If the answer is yes, then you are probably doing the right thing. If the answer is no, then you had better be getting what you consider over the odds.
For all the glamour and hype of the $1.2 million day, Cambridge is still Cambridge and in mile races there the leader and trailer have an enormous advantage.
As good as some of those horses who settle back in the field today are, they have virtually no chance coming wide inside the last 800m, especially if the leaders get a second 400m sectional in slower than 30 seconds.
That rule is not quite as hard and fast for the trotters, with the greater variance in ability levels and the looser racing formation, but when the big boys of pacing get serious those handy will completely dominate.
Which makes Ideal Scott (R9, No 2) the best bet of the day.
The Woodlands Derby winner loves Cambridge, has gate speed and can lead or trail.
He has a weaker rival in Lets Elope, likely to be on his back should he stay in front, and would pace 1:55 around Cambridge in his sleep.
In a race containing six group one winners, he will take an enormous amount of catching but a price of $2.50 is realistic and taking less is unders.
The best multi-bet anchor for the day is at the other end of the programme in Bettor Cover Lover (R1, No 5), who is looking for her second Jewels success on this track.
She may have finished only ninth in Melbourne last Friday but staged an enormous recovery after an early gallop so should simply work to the lead and win.
Whether you take her $1.20 fixed odds price depends on how badly you want to boost your potential final multi-bet dividend.
But it is probably worth it.
The higher the level of racing the harder it will be to peg back the leaders, simply because they won't get as tired and that could be enough to get Terror To Love (R8. No 2) home.
He has become a hard horse to follow but he is a New Zealand Cup winner likely to lead in a race without mid-race pressure and his likely trailer, Zenola Seelster, is not a natural miler.
That makes even money a fair price for him but he has still been anything but convincing this season and Gold Ace (No 10) has often had his measure so could be worth covering on.
One horse who doesn't have great gate speed but should still get the lead out of respect is Five Card Draw (R7, No 5). He is top dog among this crop so far and should be in front with a lap to go, making him the one to beat.
Border Control (No 6) has beaten older horses twice recently and paced a national record last Friday. The only concern with Border Control is whether his stunning time last Friday flattened him.
The race has been robbed of one of its stars in Alta Christiano, who was scratched yesterday with a cough and his absence helps Abraxas, who now follows out stablemate Mighty Flying Mac (No 2).
If Abraxas punches through early from the second line he could be handier than expected and he has become a winning chance, along with his stablemate.
The draws enormously favour O Baby (R5, No 3) in the 3-year-old fillies pace, where a very even crop have yo-yoed in form all season.
O Baby is at her peak though, has gate speed, has won on this track before and should lead early, which gives her the options.
The dangers include Twist And Twirl, Cheer The Lady and Elusive Chick but they are all likely to cover more ground than O Baby.
The 2-year-old fillies is one race where the leaders could potentially sabotage each other and open the race up to the second line horses.
There is enormous gate speed in Pepper Potts (R3, No 1), Opulent (No 3) and Delightful Christian (No 5) and unless one of their drivers blinks early this race could be set up for a rival sitting just off the speed.
That makes Onlyforyou (No 11) a great each way chance as she has been the only filly in this crop who has been able to consistently move mid-race and never miss a place.
She could get out to $5, which would make her one of the better bets of the day.
The trotting races are slightly different from the pacers, but the 3-year-old division looks the easiest to predict.
If Lotalov (R4, No 4) leads and races up to her best, only Escapee (No 13) can beat her and she will need to do something very special from the unruly.
Stent (No 9) has had his chances negated by the draw but one of the best place bets of the day is Triumphant Monarch (No 2).
The 4-year-old trot should come down to whether Irish Whisper (R6, No 7) can cruise to the front. If he does he should win but if a rival like Phil's Gift (No 5) gets in his way the race sets up nicely for Thanesan (No 12).
Which brings us to the lottery of the day, the 2-year-old trot where manners are the key, especially for nutcase speedster Royal Aspirations (R2, No 2).
If he leads he will take a power of catching, if he doesn't the more tractable trio of Paramount Queen (No 4), Sheemon (No 10) and Habibti (No 12) can all win, along with local Prime Power (No 11).