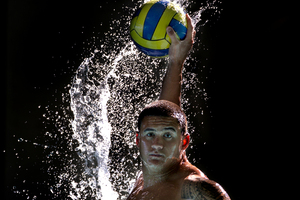 Joseph Kayes wants to speak Hungarian fluently and immerse himself in the country's traditions and cultures. Picture / Brett Phibbs.
"Nerve-racking, scary, frightening, exciting."
Those were the emotions coursing through an 18-year-old Joseph Kayes as he passed through Customs into Hungary, a country with a turbulent history and an uncertain future.
"I don't mind admitting I'm a bit of a mummy's boy. Being the oldest kid, it was hard to break that bond and move somewhere."
Dorcas, Kayes' mother and a former Bay of Plenty netball rep, needn't have worried. Her boy's doing all right. Now 21 and back in the country to play an exhibition water polo game this weekend, he's starting to eye what would be an astonishing conversion: from happy-go-lucky New Zealander to Hungarian Olympian.
There's a long way to go yet. At least four years, as it happens, but there's a growing sense that Kayes could make it.
"It's a long way from a shoo-in," he says. "Living there and picking up different things, it became a pipe dream. Slowly it's becoming more real."
He realises that it might be difficult to win over all of the natives.
"I've worked to not be the cocky kid from New Zealand. I'm willing to listen to everyone, even if I know they're wrong," he laughs. "All along I've tried to show players respect. That has its limits - if someone throws a punch they'll get it straight back - but I've learned it is your level of play that earns respect."
Kayes could apply for residency now. He understands the language but would like to learn to speak it more fluently. He'd also like to get more of a grip on the country's history. He has no interest in being a fly-by-nighter, preferring to fully immerse himself in the country's traditions and cultures.
"If I'm going to play for the team, I want to be as close to a real Hungarian citizen as I can be."
The Olympics were the last thing on his mind as he travelled to Szeged, 160km south of the capital, Budapest, near the border with Romania.
Water polo was "one of those things that was force-fed by Dad [Paul]". Kayes grew up around water, at swimming and surf-lifesaving clubs, and his father's enthusiasm for water polo soon rubbed off on him. Five years ago, a Hungarian junior national team toured New Zealand and the wheels of Kayes' unusual life were set in motion.
The manager of that side was Ferenc Kemeny, father of the most successful water polo coach in history, Denes. Kayes, playing for the New Zealand juniors, caught his well-trained eye.
"He asked me if I wanted to make a career out of water polo."
That was an outlandish prospect, but the seed was planted. Kemeny talked a good game, said he would sort it out and suggested that in the interim Kayes should get himself to Perth for a season in the Australian league. Kayes did. Perth won. Nothing happened. He returned to Tauranga to continue life.
"Then one day a contract arrived in Dad's email account. It had my name on it and told me I'd be playing for Szeged," Kayes recalls. "They had just signed a three-time Olympic centre forward and they wanted to tie up a few loose ends, budget wise."
Subtext: they got him cheap. Not that Kayes had much to complain about. Here was a Kiwi kid trying to make a splash in the mecca of water polo. In Italy, Serbia, Croatia and Montenegro - other countries with pro leagues - water polo is big. In Hungary, where the men are nine-time Olympic champions, including the past three, it's huge.
Kayes compares the Magyar love of the sport to New Zealand's affinity with rugby. If you want to sell anything stick a water polo star on your promotional posters.
So what made Kayes stand out?
"Definitely swimming will help in your initial steps as a water polo player. Not drowning helps. The rest of the skills progress and depending on what position you play you might need to add more muscle."
Kayes plays centre forward, a position where he needs every single one of the muscles that lace a body that stands at a little more than 2m and weighs 116kg. The role of the centre forward is, surprise, to score goals and earn his side penalties.
"I get a good, strong position, others get me the ball and I'm expected to make something of it," he says.
Simple, really, until you consider what lies beneath. That is where a significant amount of the action is taking place and some of it is downright nefarious.
"Like rugby, a lot of it you don't see - kicking, punching, knees. If you put your head down, you're kind of asking for one to the chin."
If his "pipe dream" bears fruit and he ends up standing on the podium in Rio singing Himnusz, will Kayes still feel like a Kiwi?
"There'd be a half-Kiwi, half-Samoan boy on the podium standing there with Hungarian togs on."