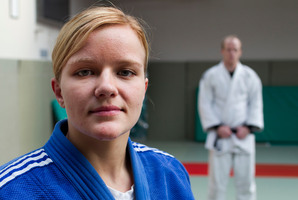 New Zealand's newest Olympian Moira de Villiers laughs as she describes the appeal of her sport.
"You get to beat up people safely," she quipped of judo, in which she will contest the under 70kg division in London on August 1.
De Villiers, born near Pretoria in South Africa 22 years ago, but a resident of the North Shore since she was 13, is the fifth woman, and 14th judoka, to represent New Zealand at an Olympics.
A first medal still awaits, although Brent Cooper fought for bronze at Seoul in 1988.
De Villiers won the single Oceania Continental qualification spot by dint of winning the Commonwealth Championship title in Cardiff this year.
Throw in her Olympic ranking of 18 - and remembering the expectation of a top 16 finish as set out by the New Zealand Olympic Committee - and de Villiers certainly justified her selection.
"It was pretty nerve-racking, but I knew I had a good case, and had the results I needed," she said.
Judo has been her first sporting love since she was 5, when she poked her head around the door at the kindergarten her mother ran and saw a group of boys taking part in a judo session.
"I was a little tomboy at that stage, so I was ready to rumble and never looked back," she said.
She likes the feeling of security the sport brings: "It gives you that discipline and respect and you feel confident."
Luck will play its part in London.
At present 21 athletes have qualified in de Villiers' class. It is a 32-person draw, but she doubts that many will qualify.
There will be perhaps four byes within a straight knockout process until the quarter-finals. Luck means a bye or a beatable opponent first up. Bad luck means drawing Lucie Decosse, a 30-year-old Frenchwoman and three-time world champion.
Bouts last five minutes, with a further three minutes golden time available if there is no score, followed by a referee's call, if needed, the winner being the fighter showing more attacking intent, and aggression.
De Villiers has battled through considerable discomfort. She suffered a sternoclavicular injury last year, when one of the notches at the bottom of her neck popped out in training; and dislocated a ring finger fighting in the semifinals in Cardiff.
The career-changing event came in 2010 when she and partner Jason Koster were accepted into the Olympic Training Centre in Paris.
"It's been amazing, it's done me wonders," she said.
"The knowledge I've learnt and the coaching, how much I've developed over the last year and a half; if I hadn't gone to Paris I don't think I'd be where I am."
De Villiers and Koster are off to the Netherlands shortly to train with renowned trainer Jan de Rooy, before heading to London.
She knows most of her competitors, through her time in Paris. There will be few surprises in London, which is where that luck element comes in again.