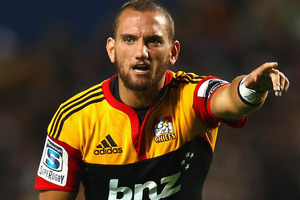 A lot can happen in one year. 12 months ago the bottom placed Chiefs travelled to Eden Park to take on the table topping Blues with three games remaining in the Super 15 season and little to play for.
Fast-forward a season and the boot is on the other foot as the current New Zealand Conference leaders are out to avoid an upset similar to the one they dealt to the Blues when they face off on Saturday night.
To their credit the Chiefs had five wins under their belt ahead of last year's week 16 clash compared their opponent this weekend who have chalked up just two victories, but injured Chiefs co-captain Craig Clarke says talk in the camp this week has been to expect nothing but another intense clash against their rivals.
"Every game is crucial for us as we've done a lot of hard work to get up to the top of the table and we want to stay there," Clarke said.
"We've made a point of the number of All Backs they've got in their team, how hungry they'll be and how traditionally Chiefs-Blues games as a local derby are very intense games.
We've talked about those things and there won't be any complacency there because there's too much riding on it for us."
Clarke will miss Saturday's match due to a minor neck injury but is confident his side will claim their first ever season sweep and win their third straight against the Blues, going back to that unexpected 16-11 victory last June.
"Obviously (it's) a great incentive. To beat the Blues team twice in a season would be a pretty special thing. It's a massive game against a Blues team that we need to win desperately to be able to create more of a buffer in the New Zealand Conference."
Before the season many experts picked the Chiefs' forward pack as their key weakness and that their star-studded backline would be wasted due to the lack of ball they'd get to work with.
But their run of 10 wins in 12 matches this season has been off thanks largely to a very strong pack that has rarely put a foot wrong. Clarke says a simple philosophy of getting stuck in and physical is the secret to their success.
"There was a bit of a mindset change at the start of the season. We're not functionally just to supply ball for our awesome backline, we're actually there to play the game get stuck into teams and get some good old-fashioned go-forward.
"We've sort of realised that you're very unlikely to win a game of rugby if your forwards don't do that and it's just a very simple philosophy of ours that our forwards are following. When we get a chance we get stuck in around the fringes and try and be physical."
With a three week competition break following this round's action Clarke says he's looking forward to the hiatus and chance to rest his body.
"We have a pretty good rest for the guys who won't be involved with the All Blacks and so you can really get stuck into this game. But we do that every week so it doesn't really change things in terms of that.
There's no doubt the Chiefs have earned the break but face the challenge of retaining their form and an injury-free squad when key squad members return from respective international fixtures and the North-South encounter for their next match against the Highlanders on June 29.
"It will have its challenges in terms of us coming back together towards the end of the break refreshed and tighten up as a unit," Clarke said.
The Chiefs need to be wary. A lot can happen in three weeks.