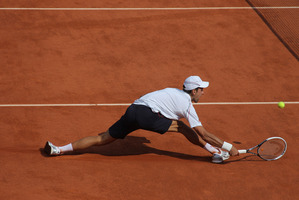 Novak Djokovic insists he feels no extra pressure as he bids to become the first man since Rod Laver 43 years ago to hold all four Grand Slam titles at the same time.
The world No 1 made a steady start in his attempt to seal that place in tennis history at the French Open, beating Italian Potito Starace 7-6 (7-3), 6-3, 6-1 yesterday to book a second-round meeting with Lleyton Hewitt's conqueror, Blaz Kavcic of Slovenia.
Of the seven men to win all of the four majors in their careers, only Don Budge and Laver (twice) have held all four at the same time.
Since Laver's 1969 achievement, only Pete Sampras, Roger Federer and defending and six-time Roland Garros champion Rafael Nadal have had opportunities to complete a non-calendar year grand slam.
While he has the Wimbledon, US Open and Australian Open titles in safe keeping, Djokovic has yet to reach a Paris final, having fallen three times at the semifinal stage.
But he's adamant there is no added burden from the expectation on him this year.
"Pressure is always present and, the way I look at it, it is a privilege and, you know, it's a challenge. I believe every professional athlete feels the pressure," the Serb said.
"So you need to try to understand and learn how to deal with it and, if you feel pressure, that means that you're doing something that is right.
"I'm happy to be where I am at this moment. I was always dreaming to become the world's best player."
Djokovic admitted he was aware that he can write a big page of tennis history should he win in Paris but "it doesn't give me an extra negative pressure".
"I really think it's a challenge and something to embrace and to enjoy.
"As I said, I'll try to go step by step. It's really too early to talk about eventually getting my hands on the trophy, but it's definitely a goal.
"It's a two-week event. Anything is possible here."
Starace, ranked 97, counts clay as his favourite surface but has never gone beyond the third round at Roland Garros and he was cannon fodder for Djokovic in this form.
After pushing his rival all the way in the opening set, the Italian thereafter was outclassed as Djokovic banged down six aces and did the bare minimum in picking off four of 15 break chances despite finding the swirling breeze off-putting.
"Potito is a specialist on this surface but I played well considering it was the first match at this year's Roland Garros," said Djokovic, who won applause for conducting his on-court interview in French, though he pointed out that "I live in Monte Carlo, and the official language there is French".
Djokovic meanwhile addressed the importance to him of his late grandfather Vladimir, who died in April.
Television cameras caught the star in tears while practising in Monte Carlo after hearing the news and the Serb explained: "When I was not with my parents, I was with him.
"I think sometimes even you have that special relationship with your grandparents more, even more than with your parents, because your parents always judge you on things, and the grandparents allow you to do anything you like ..."
- AAP