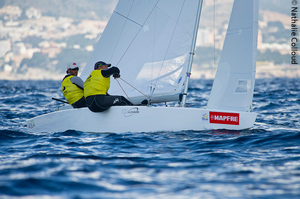 New Zealand's Olympic team now stands at 88 after sailors Hamish Pepper and Jim Turner (Star) and Dan Slater (Finn) were added and runner Adrian Blincoe's (5000m) nomination was ratified by the New Zealand Olympic Committee.
Pepper and Turner launched a late bid for selection, teaming up in the Star only last October, and have put together a compelling case for inclusion. They qualified the boat with their seventh placing at this month's Star world championships at Hyeres, France, which came on the top of their fifth placing at the Princess Sofia regatta in Spain in March - they were leading the event until they received a controversial penalty in the final race - and eighth at the prestigious Bicardi Cup in Miami.
"We're honoured to be named to the New Zealand Olympic Sailing Team" said Turner, who has lived in New Zealand for more than 10 years but only recently gained residency. "It's an important milestone to tick off on our way to the big one.
"Every time we sail we are learning something and getting better. From now on it's all about ... the Games themselves."
Although London 2012 will be Turner's first stab at the Olympic Games, he is not new to the high performance sailing world with six world championships to his name and was a former British America's Cup sailor. Pepper has considerable Olympic experience.
He was 10th in the Laser at the Atlanta Olympics in 1996, seventh at Athens in 2004 and ninth at Beijing in the Star.
Slater was eighth in the 49er skiff class with current Olympic 470 coach Nathan Handley at the Sydney 2000 Olympics before switching to the Finn for 2008, when he finished 12th. This season, Slater has had two fifth place finishes at World Cup regattas, and a good track record of previous results from the 2012 Olympic venue.
"In many ways, the Weymouth venue is similar to Murrays Bay where I learnt to sail and have been sailing since I was 10," Slater said. "It feels close to home."
New Zealand is one of a select group of nations who have qualified in all 10 disciplines for the Olympics but the chances of being represented in the women's RS:X appear slim. Natalia Kosinska is not competing at next week's Sail for Gold regatta in Weymouth, the last major event before the Olympics, but Stephanie Williams will attempt to stake a claim.
Blincoe is New Zealand's 1000th Olympian and has been selected for his second Games, where he will run in the 5000m.
He had met the NZOC selection standard of 13 minutes 20 seconds in July 2011, running 13:18.27 in Barcelona, but was not named in the first crop of athletes in March pending proof of current form. With the US season now underway and a strong time of 13:23.27 recorded in California last week, the selectors are satisfied with his fitness.
Blincoe holds the New Zealand 5000m record of 13:10.19, set in July 2008, and this will be his second Olympics on top of the two Commonwealth Games (Melbourne 2006, Delhi 2010) he's run at.
He was named New Zealand's 1000th Olympian in 2009 after a mammoth process when all New Zealand's Olympians were named and numbered. Athletes were numbered alphabetically by Games.
The New Zealand team is expected to number 200 athletes. Nominations to the NZOC close on June 15 but Olympic hopefuls in a handful of events like athletics, equestrian (eventing), basketball and road cycling still have a chance of being selected after this date.
- APNZ