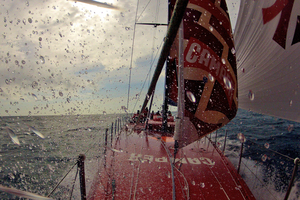 Day eight and I have just come down below after perhaps the most enjoyable watch so far this leg. We are charging along in 20-30 knots of wind, flat water (the best bit) with the masthead spinnaker up outrunning the chasing cold front.
As much as we love big waves and surfing when you get flat water the boat is a dream to drive, easily sitting on consistent speeds in the mid 20's.
We have a very close race going on- again and have just put a few miles on Sanya and Groupama, our two nearest rivals.
The boat feels like it is going very well so we eagerly await the next sked result.

The past week of racing has been extremely challenging for all of us.
We have had our ups and downs as have the other teams and everyone has been working hard, struggling to figure out the fastest way through the myriad of variable conditions that have been thrown at us.
We have been in sixth and in first place with the associated rollercoaster of emotions that go with that. It is difficult at times to try to keep a level temperament and not throw the toys out of the pram.
The challenging conditions have meant very little sleep for any of us and a full off watch is a pretty rare and valuable commodity. These are way too few and far between.

The final 1400 miles will present a variety of conditions, the forecast has us doing over 1000 miles in the next 48 hours as we continue to enjoy very fast running and reaching.
The final hurdle is shaping up to be a big one, a wide and long high-pressure ridge between us and the finish in Lisbon. It is likely we could see all the boats within sight of each other as we enter this light air zone and you can be sure the first one out will probably win the leg. Needless to say it is unlikely we will be getting much sleep as we put everything we have got into getting through the ridge ahead of our opposition.
This leg is still wide open and we are all working hard to try to achieve our first leg win.