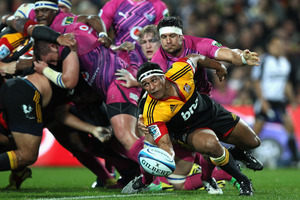 The lineout was a bit wobbly, they still look a bit vulnerable to the rolling maul and Lelia Masaga wouldn't want to watch too many replays of Bjorn Basson's try.
Still, life's pretty good at the Chiefs when you have to invent issues.
Their 28-22, potentially season-defining victory over the Bulls was notable not just for the quality of the rugby, but the way the Chiefs stared down a situation they had yet to encounter this year - a halftime deficit. In 12 matches that was the first time they had gone into the sheds behind. The week four clash with the Brumbies at Mt Maunganui, where the sides were locked 9-9 at the break, was the only other occasion the Chiefs failed to get their noses in front.
Chasing the game can play with a team's mindset. You have to be composed or desperation will start tugging at your sleeve.
Desperate sides invariably make bad decisions.
There was no hint of that on Friday night in Hamilton.
People might point to Craig Clarke's decisions to forsake kickable penalties as a gamble, but he has done it several times already this season.
Rather than desperation, it is coldly calculating. Bunches of points come from building sustained pressure.
Clarke knew that what the Bulls desperately wanted on Friday was for the game to stop while Aaron Cruden lined up difficult shots.
Instead what they got on one occasion was a beautifully worked scrum move that saw Asaeli Tikoirotuma score.
There were many other pluses, none more so than the front row.
Ben Afeaki came through his first outing since breaking his arm in week one with a powerhouse propping display.
Coach Dave Rennie and forwards coach Tom Coventry now have four props at the top of their game to choose from - Afeaki and fellow tighthead Ben Tameifuna, plus looseheads Toby Smith and Sona Taumalolo. That's an enviable position to be in.
"We've got depth," Rennie said. "The scrum was really solid and for Ben to come in and play 80 minutes was pretty impressive."
Scrum, good; lineout, not so.
It is not a major, though, said Rennie. Their issues stemmed from a lack of tempo when forming the lineout.
"The Bulls have a very good defensive lineout, especially if they have time to set up," Rennie said.
Andrew Horrell is the only new injury worry.
"He's got a bit of a bruise on his calf that we will need to monitor. We hope it is just a bruise and not a small tear."
Horrell has been a minor revelation at fullback, having played most of his recent rugby at five-eighths for Hawkes Bay.
Richard Kahui and Shane Cleaver remain out with long-term injuries, while any hope that Tim Nanai-Williams might be ready for a return against the Blues appear to have been dashed.