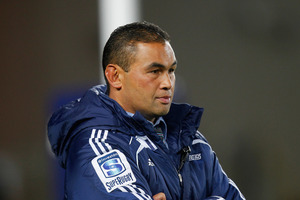 The Blues disgrace reached a low on Saturday night because coach Pat Lam threw a winnable game against the Highlanders.
No matter how bad this season has been, the Blues should still fight for every competition point.
Through the depressing haze on Saturday night, I'm sure one TV commentator suggested Lam - who left three test veterans on the bench - had picked a team for the future.
Lam - who should have been sacked weeks ago - isn't there to develop for a future he will have no part in. His team selection ran up the white flag against the Highlanders at Eden Park, once the fortress of the mightiest team in the world.
As Highlanders coach Jamie Joseph inferred, his team didn't play very well to win on this once-hallowed turf.
There's only one way to justify a shock team selection like Lam's, and that's by winning.
Otherwise, it's open season on the coach.
Lam sent boys into battle and left his men on the bench, and the most inexcusable tomfoolery was starting Michael Hobbs ahead of Ma'a Nonu at second five-eighths. Hobbs was anonymous, and Nonu is way too good to leave on this team's bench.
Lam's apparent suggestion that Nonu - along with Piri Weepu and Ali Williams - might be tired after an All Black camp was put to rest when Nonu arrived in the second half. He certainly didn't look tired - anything but. (I say apparent, because it's hard to know what Lam is on about most of the time.)
On a scale of one to 10 in the history of No12s, Nonu would be an eight and Hobbs about minus three.
You could only guffaw at halftime when Lam said he wanted his players to indulge in less kicking, considering he had parked rugby's most famous power running, non-kicking second-five on the bench for a converted No10.
It's hard to know where Williams' career is - at a pinch, you might say the two young locks selected ahead of the injury-plagued test veteran would add vigour.
Then again, Williams was playing his 100th Super match, and that might have fired him up for a stirring display. Starting a rookie hooker, locks and blindside flanker against the battle-hardened Southerners was a recipe for even greater lineout disasters than the Blues have exhibited already.
For all the criticism aimed at Piri Weepu, he's still a couple of classes above Alby Mathewson as a halfback whether Weepu has been mainlining suet puddings or not.
I feel for Mathewson to a degree as he appears to have his heart set on a career at the Blues, yet has been stuffed around because Weepu was allowed to saunter into town. But that's professional sport, and competition should bring out the best in players.
Yet it hasn't in Mathewson. His strength was as a slightly blinkered runner and feisty competitor, but we've hardly seen any of that. All Mathewson seems to do is lob the ball out of defence with his boot. In contrast, Weepu draws players into the game with the class of his passing and has a rare instinct at this level.
How on earth could Lam leave this test trio on the bench in a side devastated by injury? Forget the All Black camp nonsense - it's time for all the best hands on deck.
The Nonu decision, in particular, was pathetic and comes after Lam sent a young prop into a battle he was nowhere near ready for against the Crusaders last week.
Under intense pressure and with his own career lurching into a crisis position, Lam is doing way too much thinking and none of it very good.
Standout Chiefs effort
The Chiefs were outstanding against the Bulls, whose pink outfit suggests they possess flamboyance that's a world away from how they actually play. Dave Rennie's side showed great composure, withstood a predictable attempted forward onslaught, and did just enough in the backs to win. The Chiefs have a lot more attacking potential than they showed, but know their own game so well they can cut their cloth to fit the situation.
Smith, Smeltz star in Texas
Another proud moment for New Zealand soccer, a fabulous Shane Smeltz goal creating a victory against much higher-ranked Honduras on a dodgy field in Texas. New Zealand faded badly and had to cling on, but a win is a win at this level.
Finding a commanding central midfielder remains the big problem for coach Ricki Herbert, but there are decent attacking players available by New Zealand standards and he appears to be giving them every chance. It has also been a fantastic few days for the new All Whites captain, the young Tommy Smith, following the comeback draw with El Salvador.
The TV camera coverage, however, was as rough as the playing surface and in the latest "oops", the New Zealand flag turned up as a strange blue/yellow/red number in the on-screen graphics. The officiating was also strangely lax on a couple of occasions when faced with a handball incident and another which saw Ian Hogg felled.
The world game isn't always a class act but, overall, a mighty "well done" to Herbert, Smith and the squad who will be good spirits as they set about qualifying for the World Cup in Brazil.