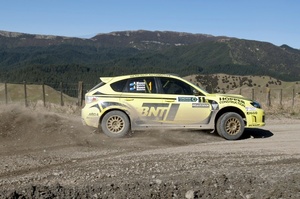 The third round of the New Zealand Rally Championship gets into action this weekend on the gravel roads around Dunedin. Youngster Alex Kelsey still hangs on to the lead from a chasing Richard Mason, the defending champion, and Emma Gilmour who's keen to get her first national title. Another former national champion, Chris West, will want to move back up the table and has been fast at Rally Otago in the past.
Motor racing talent quest
New Zealand's next young motor racing star could be discovered this weekend when a dozen hopefuls head to the Manfeild for the annual TradeZone/SpeedSport Scholarship. The 2012 winner will be announced on Sunday afternoon and will start a year-long programme, which includes a fully funded season racing in the New Zealand Formula First championship.
Karters academy
Top New Zealand karters Daniel Connor and Arie Hutton will join seven other talented young drivers at this year's Elite MotorSport Academy in Dunedin, July 2-8.
Established in 2004 by the MotorSport Scholarship Trust, the academy has proved successful in preparing Kiwi drivers for domestic and international competition.
Top award for Stanaway
Motorsport New Zealand held its annual awards dinner last weekend with our top drivers being rewarded for their efforts. Richie Stanaway won the prestigious Jim Clark Trophy, Hayden Paddon was awarded the Rally Founders Trophy for the fifth successive year and Nick Cassidy picked up the Steel Trophy.
Tight at top of Acropolis
Citroen World Rally Championship driver Sebastien Loeb is looking to extend his series lead at the Acropolis Rally in Greece this weekend. The Frenchman holds a narrow 18-point lead over a resurgent Petter Solberg who in turn is only three points up on Mikko Hirvonen. Jari-Matti Latvala makes a welcome return after breaking his collarbone in a skiing accident.
Under the hood
Tearing up principality
One of the triple crowns of global motorsport, the Monaco Formula One Grand Prix will be tearing up the streets of the principality this weekend. The event is not really about the racing per se, more the atmosphere. If you're not on the front row you'll not win, bar rain or a big accident. It's the only round on the F1 calendar where the cars aren't allowed out on the circuit on Friday, sticking with a tradition which goes back to 1929. The weekend is full of glitz and glamour where the racing is just a bit part player. Rather than the motorhomes taking centre stage, it's the motor yachts in the harbour that vie for top bragging rights. If someone today suggested the streets of Monaco should be used for an F1 race they'd be laughed out of the room. However, with 83 years of hosting the blue riband of motor racing, it's good to see history still counts for something.