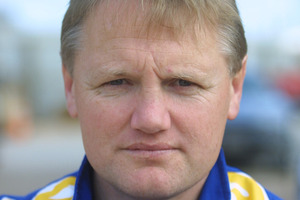 Joe Schmidt could be back in New Zealand, looking for a job in as little as 12 months' time. That could be very good news for New Zealand rugby but very bad news for some individuals.
Schmidt followed his personal triumph of masterminding Irish province Leinster's second successive Heineken Cup title by giving his clearest hint yet that he sees a return home as an increasing priority in his life. If they are worth their money, the news should alert a lot of CEO's in New Zealand rugby.
Already Schmidt has carved out a reputation as the most innovative coach in northern hemisphere rugby, with the sole exception - possibly - of Warren Gatland. But with only one more year left on his Leinster contract, how does the man himself see his future? Very clearly, it turned out.
The imminent return home of Schmidt's 18 year-old daughter to study in New Zealand is clearly becoming a major factor in his own thinking. "She had the opportunity to go back to France or study in Ireland" said Schmidt. "But I think I am a small, home town boy and I think those values have been passed on to our kids.
"Inevitably at some time, we will end up going back (to New Zealand). Home is Palmerston North and our family and friends are still around there and up in Napier."
Schmidt has one last week of rugby in Ireland this season, with Leinster attempting to add the Celtic League title to their Heineken Cup success this weekend. After that, he will spend his three week break in New Zealand before returning to Ireland to begin preparations for next season.
"The few weeks break in New Zealand will give me a little time to reflect" he said. "As a coach, generally you don't control things. There are only two types of coach - those that have been fired and those waiting to be. Things can turn around very quickly. For example, here at Leinster there is already massive expectation for next year so our performances will be monitored very closely as to the quality we produce. We have set a standard for ourselves and others."
Schmidt has been away a long time, for he spent three years at French club Clermont Auvergne, helping Vern Cotter steer them to their first ever French Top 14 title after the heartbreak of losing nine finals in their history. His world coaching odyssey cannot last forever but the scramble to secure his services promises to be prolonged and spectacular once he does finally confirm his decision to finish in Ireland.
There is an obvious dichotomy in Schmidt's situation. He admits on a personal level "I am a really poor planner in a personal sense in my own life. Yet in terms of working with players, I am a detail sort of person sometimes to a fault. So I try to limit myself in that regard.
"I don't think I have ever made any personal plans. You exist from week to week in rugby coaching and all I am looking at now is our next match, against The Ospreys this weekend."
But the triumph of Schmidt's work is that he produces winning teams AND extracts an attractive playing style from them. Is it solely a coaching attribute?
"It's about having the courage and philosophy. In a team, there can be some angst about the way you are trying to play the game. So it's about getting everyone to believe and getting everyone to enjoy what they are doing.
"There are plenty of players in the northern hemisphere who can play this whole game. In Wales, the Scarlets are trying to do so. Edinburgh, too, have tried to get pace into their game. But some teams don't follow the philosophy. Toulouse, for example, have slowed their game down. They don't play as openly as they used to because the Top 14 in France has become a physical contest.
"You look at a club like Toulon. With the firepower they have got, imagine if they really opened up. They could play in whatever manner they wanted because of their personnel."
Instead, Toulon lost the Amlin Challenge Cup final (European rugby's No. 2 competition) 21-18 to Biarritz last Friday night, because they were too scared to attack. The match produced 12 penalties and a drop goal and was one of the worst adverts for rugby I've seen in years.
The contrast has been Leinster's outstanding attacking play all season, albeit added to a watertight defence. Schmidt shrugs. "It takes time to play this way. Often, the immediacy of results and expectations demand that sacrifices are made. Sometimes, coaches feel the pressure to use a bit of polyfilla whereas the whole wall should be demolished and rebuilt.
"But you can play this way at provincial level and you also can at national level, as the Australians keep proving. The All Blacks have shown too they can play quickly or slow it down because they have superb players even in the tight forwards. The passing skills and footwork of players like Keven Mealamu and John Afoa prove that.
"I really like an open game of rugby; I would always lean towards my team playing positively. But I accept you have to play to your strengths. And as professional rugby is a results driven game, many coaches just try to play a brand of rugby that suits the players they have. As for us, we have quite small backs and quite a small back row. If we didn't play fast, we would get into trouble."
So would Leinster be capable of mounting a serious challenge in the Super 15? Schmidt thinks it's impossible to compare.
"But I do know that Brad Thorn, who had a very short window of opportunity here this season, was pretty impressed with the work ethic he was surrounded by. Likewise, Isa Nacewa. They believe, I am sure, the players around them here would cope with that environment."
- APNZ