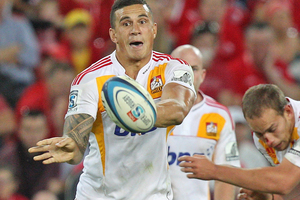 With the Hurricanes' limp loss to the Brumbies last week, the New Zealand Conference has been whittled down to a three-horse race - Dylan Cleaver looks for a likely winner.
THE LEADERS
Chiefs
Points: 49
Recent form: BLWWW
Run in: v Bulls, Hamilton
v Blues, Albany
v Highlanders, Dunedin
v Crusaders, Hamilton
v Hurricanes, Wellington
Where they've got it right
The Chiefs' canny recruitment has given the coaches not only a bunch of talented players, but half a squad inured to the failure that characterised their 2010 and 2011 seasons. The Chiefs have got a handy seven-point lead over the Crusaders and they've done that by basing their game around set-piece solidity and a mean defence.
Where they could go wrong
They have a brutal run-in - just two home games and four tricky derbies. The Blues at Albany looks like the closest match approximating a gimme, but even that comes with some peril.
They have coped well with injuries to this point, but they cannot afford to lose another midfield back now Kahui is crocked.
Critical encounter
Look no further than tonight versus the Bulls. It would be a very bad look for the Chiefs to lose to a team wearing pink in Hamilton, especially with Field Days just around the corner. In all seriousness, the home side have to re-establish their defensive primacy to
night after shipping eight tries in disappointing performances against the Reds and Lions.
It sounds simple, but the longer they keep winning, the longer they keep the Crusaders at arm's length.
IN THE TRAIL
Crusaders
Points: 42
Recent form: WLWWW
Run in:
Bye
v Highlanders, Christchurch
v Hurricanes, Christchurch
v Chiefs, Hamilton
v Force, Christchurch
Where they've got it right
The way they usually get it right. They have spent long parts of the season looking slightly underwhelming, but they have key players back in key positions and, with four wins in their past five matches, they're gaining momentum at the right time. With a bye this weekend and three of their remaining four games in Christchurch, the signs are good.
Where they could go wrong
Consider their travesty in Melbourne, where they played like a team that has an entitlement complex. That's not something you associate with the Crusaders of old times but you have to remember, as unlucky as they were last year, this is a team that hasn't won a title since 2008. The younger guys don't know how and the older guys may have forgotten.
Critical encounter
Their match against the Chiefs at Hamilton could decide the conference. The visitors would be more comfortable with that scenario, you suspect, than the home team. That's also a ticket worth queuing for.
THE LONGSHOT
Highlanders
Points: 39
Recent form: WLLWW
Run in:
v Blues, Auckland
v Crusaders, Christchurch
v Chiefs, Dunedin
v Reds, Brisbane
Bye
Where they've got it right
It's all those tired old chestnuts: Southern grit, the ability to maximise fairly limited resources. They've made some clever signings, including Tamati Ellison, Rico Gear and Mike Delany, but they could have done without the suspension of England international James Haskell.
Where they could go wrong
They may have already gone wrong. Losses on the bounce to the Sharks away and Hurricanes at home has put them in a hole they will struggle to dig themselves out of. Now, with trips to Auckland, Christchurch and Brisbane and a visit from the front-running Chiefs, they have to perform extraordnarily on those celebrated "limited resources'' to win.
Critical encounter
They all are, really, but if they go to Christchurch next week and come away with nothing, they can forget about catching the Crusaders, let alone the Chiefs. It's not
beyond the realms of possibility; they travelled to Nelson last year and duffed the home side 28-16.