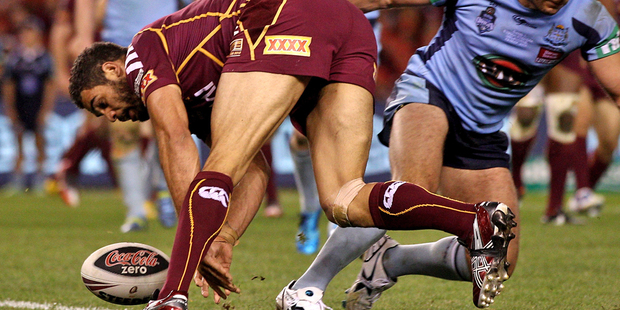 NRL referees boss Bill Harrigan has denied telling NSW coach Ricky Stuart after the State of Origin opener that Greg Inglis's controversial try shouldn't have been allowed.
The Daily Telegraph on Thursday reported Stuart as saying Harrigan had admitted that video referee Sean Hampstead should have ruled against Inglis - whose try seven minutes from time helped lift Queensland to their 18-10 win on Wednesday night.
Harrigan said he's taken the issue up with NRL media director John Brady.
"I just finished talking with (Telegraph executive sports editor) Phil Rothfield and now I've left it with John Brady to take it up with Ricky Stuart,'' Harrigan told radio station Triple M.
"Because I did not speak with Ricky Stuart at all last night.''
As for Hampstead's crucial decision - in which he ruled Blues hooker Robbie Farah had deliberately kicked the ball out of Inglis's hands as he attempted to score - Harrigan said he'd have to review the footage carefully before making a definitive comment.
"I still haven't reviewed the game yet and until I get back to Sydney and have a real good look at it (I won't be able to say).
"I can tell you the video referee deems Farah plays it with his foot, the ball comes loose. That means it's a live ball.
"And then when he (Inglis) puts his hands on the ball, that would be a try.''
Harrigan also threw his support behind referee Matt Cecchin's decision to sin bin Michael Jennings in the first half for running in to join a brawl and throwing a punch, even though he appeared to be one of several to do so.
"I fully support that. Because he's run in from a long way and thrown a haymaker which has connected.
"So that sinbinning is a good sinbinning.
But Harrigan suggested Cecchin could also have binned Queensland prop Matt Scott for sparking the brawl by throwing the ball into Greg Bird's head.
"The only thing he might have thought about doing a little bit differently, is binning Scotty (Matt Scott) as well.
"Because if he doesn't throw the ball at the back of (Greg) Bird's head - you don't have that situation at all.''
However, Harrigan confirmed Stuart's comments that Bird should not have been penalised for a lifting tackle on Cooper Cronk.
"It should have been play on.''
- AAP