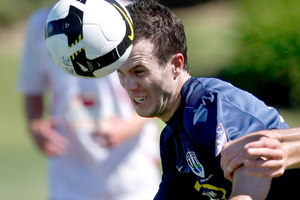 Ricki Herbert is set to hand uncapped Auckland City fullback Ian Hogg his debut when the All Whites take on El Salvador in Houston on Thursday afternoon (NZT).
The All Whites take on the 49th ranked Salvadorans followed by Honduras on Sunday afternoon, light on numbers which presents opportunities for a number of new or fringe players to press their claims for World Cup qualifiers beginning on June 2.
With Tony Lochhead, who has been a fixture on the All Whites left flank when fit, one of five OFC Nations squad members - Chris Killen, Rory Fallon, Dan Keat and Winston Reid are the others - unavailable for all or part of the USA leg of the tour, Herbert is poised to hand Hogg a start of the left hand side of a midfield quartet.
"He's a natural left sided player and that stands him in good stead," said Herbert.
"With Tony Lochhead away from the group until the Solomon Islands it's a great chance for Ian.
More than likely he'll play down that side in the Olympics so it makes sense to give him a chance now.
"He's been good in training. Anybody going into their debut will be a little bit nervous but it'll be great to see him out there and if he does get the nod then we wish him all the best."
Herbert will give Chris Wood, who arrived from England in time for the final training session a chance to get over the travel, although Tommy Smith - on the same flight - is likely to be rushed straight in to the backline to partner Michael Boxall and Ben Sigmund.
The experience of 74 cap midfielder Ivan Vicelich will be utilised in midfield alongside Michael McGlinchey with Leo Bertos outside them on the right. Shane Smeltz will lead the forward line flanked by Marco Rojas and Kosta Barbarouses.
Herbert also indicated that some or all of Cameron Howieson, Tim Payne and Adam McGeorge could all make their debut from the bench against the world number 49, with an eye on the long-term gain for the national team.
"Playing against a team like El Salvador is a different ask that what they've had in the past but I'm pretty keen to do it. We've done it with players in the past and it's been tough and demanding but a few years later it's paid dividends."
Without Ryan Nelsen (injured) and Tim Brown (retired) - who have skippered the All Whites in 32 of their last 35 internationals - for either leg of the tour, Herbert will name a captain to lead the team against El Salvador and Honduras after their final training session tonight.
Current squad members Ivan Vicelich and Ben Sigmund have both worn the armband previously, but Herbert indicated that his choice may differ from his Nations Cup captain who he will select in the Solomon Islands with the future in mind.
The match kicks off at 1pm Thursday (NZT) with live coverage on Sky Sports 3.
New Zealand v El Salvador
May 23, 2012
BBVA Compass Stadium
Houston, USA
8pm local (1pm May 24 NZT)
Live on Sky Sport 3
New Zealand (probable): Mark PASTON (GK), Michael BOXALL, Ben SIGMUND, Tommy SMITH, Leo BERTOS, Ivan VICELICH, Michael MCGLINCHEY, Ian HOGG, Marco ROJAS, Shane SMELTZ, Kosta BARBAROUSES.
Substitutes: Jake GLEESON (RGK), Glen MOSS (RGK), Jeremy BROCKIE, Aaron CLAPHAM, Cameron HOWIESON, Adam MCGEORGE, Tim PAYNE, Chris WOOD.
Coach: Ricki HERBERT
El Salvador (from): Dagoberto PORTILLO (GK), Benji VILLALOBOS (GK), Alfredo PACHECO, Xavier GARCÍA, Víctor TURCIOS, Carlos MONTEAGUDO, Steve PURDY, Alexander MENDOZA, Milton MOLINA, Dennis ALAS (captain), Ramón SÁNCHEZ, Eliseo QUINTANILLA, Osael ROMERO, Jaime ALAS, Edwin SÁNCHEZ, Elder FIGUEROA, Arturo ALVAREZ, Darwin CERÉN, Isidro GUTIÉRREZ, Ricardo ULLOA, Léster BLANCO, Rafael BURGOS, Maikon ORELLANA, Nelson BONILLA.
Coach: Rubén ISRAEL