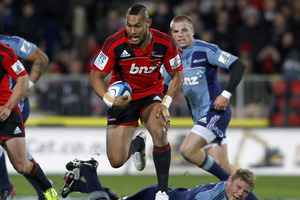 A few minutes after the Crusaders-Blues game ended, a text reached these eyes.
It came from someone well known to me who had been at the game on Saturday night. At that point, these eyes had not watched the match. The gist of the message was that the Blues had done pretty well.
This meant one of two things: the Blues had indeed done the damn near unthinkable, or the sender's well-honed mischievous sense of humour was at play again.
Fifteen minutes into the match we had our answer. "Done pretty well" to get 12. Boom boom!
Several weeks back, the Blues bus was trundling down the road to nowhere. The destination was reached on Saturday night and the Blues discovered, lost and far from home, that it's a lonely place.
Canterbury, of all locations. Not the spot for any self-respecting Auckland franchise to get blown away and plunge headlong to a fresh low.
You reckon the Cantabs lapped it up? In spades.
There was Andy Dalton, Blues chief executive, sitting grim-faced alongside his Crusaders counterpart Hamish Riach. To be fair to Dalton, it would have looked mighty peculiar if he'd been splitting his sides at a humorous Riach one-liner. Time and place, and all that.
One row back sat the new Blues chairman Gary Whetton, arms tightly crossed.
People who get paid to work these things out will tell you that posture is decisively defensive in nature.
In Whetton's case, as he surveyed the complete shower unfolding on the park in front of him, it was entirely understandable.
The Crusaders rebounded impressively from their lacklustre performance in Melbourne a week earlier. But what must it be like to be within the Blues camp now?
No one will say publicly, of course. Team ethos demands the players sing from the same sheet, whatever they may privately feel. You can't have players going off in different, contradictory verbal directions.
In any case their coach is a decent bloke in an impossible situation. He lost the dressing room some time ago, and he was wasting his time with his plaintive urgings at the break.
There are four games remaining in this wretched campaign. Three of them are at home - although whether the Blues regard North Harbour Stadium as a friendly location is moot - and then finish in Canberra on July 14. There's a four-week break to be had halfway through that stretch.
Might some of the Blues players simply not return for the final 160 minutes? That would be one of their slicker moves of the competition.
* From the outhouse to the penthouse; how about Chelsea then?
Nobody loves them, they don't care, and now they can chant it all the way down the King's Road in west London with the Champions League cradled under their arm.
Their win over Bayern Munich yesterday on penalties was a triumph for spirit and tactical savvy.
The final was at Bayern's own Allianz Arena and before the start their fans unfurled a banner of the cup, along with these words: "UNSER STADT, UNSER STADION, UNSER POKAL" ("our town, our stadium, our cup").
Chelsea stuck that arrogance where it belonged, even if they needed some luck along the way.
Consider also that they sacked their manager in March, were run over by Barcelona in their semifinal second leg everywhere but the scoreboard, and clung on through the last hour with 10 men; then played the final minus four first-choice players through suspension.
They needed a bit of luck. Both Bayern and Barcelona muffed penalties. Both were profligate in front of goal.That's not Chelsea's fault.
They'd conceded 16 corners and had none themselves yesterday until the 88th minute when Didier Drogba's thunderous header forced extra time.
Appropriate too that the Ivorian scored the decisive penalty in the shootout. Drogba is a big stage player, and for all his diving and acting, is a terrific frontman. He could be departing the club, in which case his last touch in Chelsea blue will now become the most celebrated in the club's history.
Spirit got Chelsea to the Holy Grail their Russian owner Roman Abramovich has been chasing with ruthless intent since he bought the club nine years ago. There's a lesson in Chelsea's victory. No matter the odds - and this isn't the best team Chelsea have fielded in the Abramovich era - if desire and pluck are possessed in abundance fine things can be achieved.
WEEKEND WINNER
Hard to go past Chelsea, Champions League winners. They may be an unlovable lot, but credit to a team who simply wouldn't lie down.