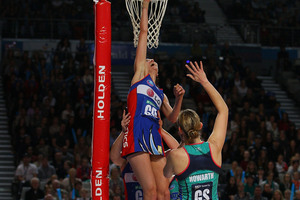 A controversial defensive innovation has helped the Northern Mystics to a breakthrough win over the Vixens in Melbourne today.
The 49-45 victory was the first time the Auckland side have beaten the Vixens on their home turf, and only their second regular season win on Australian soil in four and half seasons in the transtasman league.
The Mystics were led by a standout performance by their star defender Anna Harrison, who introduced a new form of defence of the shot never before seen in the league.
Harrison, assisted by her defensive partner Kayla Cullen, was lifted into the air to scoop up the shots of the Vixens shooters before the hit the net.
The ploy resulted in successful goaltends on at least four occasions, but it also had the effect of rattling the Vixens shooting end, putting them in two minds before they shot.
The strategy is one the Mystics have been working on in training all season, opting to bring it out for the important match-up against the second-placed Vixens.
The win was also marked by another brilliant long-range shooting display from Maria Tutaia.
The Vixens much-vaunted defensive pairing of Geva Mentor and Bianca Chatfield did a good job of pushing Tutaia out wide and forcing her to shoot from range, but the Silver Ferns star calmly slotted the goal.
Having shot 21/25 in the first three quarters, Tutaia's shooting went off the boil over the final period after Australian international Julie Corletto was moved into the defensive circle. Tutaia finished with shooting statistics of 26/34, contributing more goals than Cathrine Latu (23/24), who maintained her deadly accuracy.

- APNZ