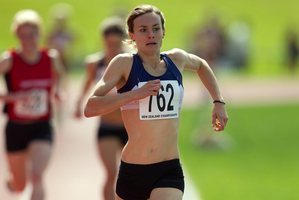 Middle distance star Nikki Hamblin has hit a further injury setback in her desperate bid for Olympic selection. The Commonwealth Games 800m and 1500m silver medallist was scheduled to contest the longer distance at a Diamond League meet in Shanghai overnight, hoping to prove her credentials.
She's already qualified with a 4m 04.82s national record last July but has barely competed since and needs to show she's healthy enough for inclusion.
But a previously inflamed bursa between the Achilles tendon and heel has flared up again while preparing in Hong Kong for this meet and Hamblin was forced to withdraw two days ago.
"It had been feeling a lot better," she told Athletics New Zealand officials.
"I think if I was able to run, I'd be able to run well enough to get selected for London, but realistically, given how my heel feels this morning, there's just no way I can start."
Hamblin, who turns 24 today, will now head to Ann Arbor, Michigan, for further assessment by the same medical team that supports Olympic 1500m medalist Nick Willis. She has another race lined up at Hengalo, the Netherlands, next weekend, but was hoping to do enough in Shanghai to confirm her ticket to London.
Exactly what that means, though, is still unclear to both her and coach Kyle Barnes.
"We've tried to ask [the selectors] for a specific number but we feel like they're protecting themselves a little," says Barnes. "Basically, they want 'proof of fitness' and the other phrase we hear a lot is 'competitive readiness'.
"They want to see those two things and we think we fulfilled the first one at the national championships, where Nikki won quite easily, but it wasn't a competitive race."
Hamblin's 2011 campaign struck disaster when she fell within sight of the finish in her 1500m heat at the world championships in South Korea.
Her only outing since then was a relatively slow 4m 19.63s at the New Zealand Championships in March.
"The criteria is up in the air," says Barnes. "They've given us loose criteria but nothing specific like a 4.10 or 4.12. If we run in a competitive race and finish way off the back, we may not get selected, but if we win a slow race, that might be enough."
This isn't the first time athletes have been confused by ambiguous selection requirements.
Last month, teenage shot prodigy Jacko Gill withdrew from Olympic consideration after he missed out on early selection.
"The regrettable part is that we did not make it clear enough to Jacko and the family that simply achieving the performance standard does not necessarily mean you'll be nominated in the first group of athletes to be named," admitted Athletics New Zealand chief executive Scott Newman at the time.
There seems a similar risk with Hamblin.
Athletics New Zealand high performance director Scott Goodman acknowledges the requirements are vague and that athletes in similar situations in other countries would probably know exactly what they needed to do. That said, he thinks a performance in the range of 4m 10s to 4m 15s would be good enough to convince selectors.
"To be fair to them, I feel people have a misconception about the process," insists Barnes. "They're not looking to not select people - we feel like they want to select Nikki and have set loose criteria."
Hamblin's nationals performance was achieved on a diet of mainly pool running. Since then, Barnes has put his charge through a heavy strength phase, while still making some allowances for her condition.
"Nikki's leaner, lighter and 200 per cent stronger in the gym, which should have massive benefits for her race on the track."
Unfortunately, the injury flared up again the day she arrived in Hong Kong.
"She did a long run before leaving New Zealand and the next day, she was quite sore."
Regardless of the injury, Hamblin hasn't done the speedwork to be on top of her game yet.
Barnes said: "The goal is to get this performance out of the way, hopefully get selected soon after and tick that box, so we can start working towards the Olympics."