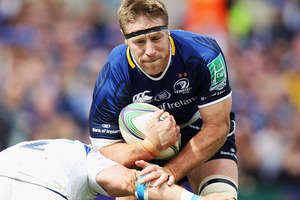 Time was, when any meeting of Irish provincial rugby teams was little more than a storm in an Irish tea cup. Irish television might cover it for the Guinness guzzlers in the pubs of Ireland but no one got terribly excited. How times change.
Tomorrow at Twickenham, Leinster and Ulster will contest the 17th Heineken Cup final before a record 82,000. And 125 countries worldwide will watch a live broadcast of the climax to a tournament that has become the most charismatic of all in the Northern Hemisphere.
Tournament organisers European Rugby Cup sit proudly on a four-year television deal worth £118 million ($243 million) and the event lures players of outstanding quality from around the world.
Leinster and Ulster will send onto the field of combat at Twickenham performers of the quality of New Zealanders Brad Thorn, Isa Nacewa and John Afoa, South Africans Ruan Pienaar, Johan Muller, Pedrie Wannenburg and Stefan Terblanche not to mention Irish internationals such as Brian O'Driscoll, Rob Kearney, Stephen Ferris, Rory Best, Andrew Trimble, Gordon D'Arcy, Sean O'Brien and Jamie Heaslip.
This veritable cluster of international talent ought to produce a minor classic in the Heineken final. But in truth, the match will almost certainly come down to Ulster grunt and determination allied to Pienaar's siege gun goal kicking against Leinster's supreme organisation, clever creativity and Jonny Sexton's equally impressive kicking.
Leinster coach Joe Schmidt, the outstanding New Zealander who is helping mastermind successful eras in Northern Hemisphere rugby for French club Clermont Auvergne and now Ulster, calls Sexton "the general who runs our game". But for me, Leinster start as favourites because in Schmidt they have a coach of peerless quality, a man whose attention to detail and exacting standards put him head and shoulders above most others.
Schmidt's decision to recruit Brad Thorn on a short-term contract was a masterstroke. If Leinster win, Thorn will become the first player in the world to win a Rugby World Cup, the Super 14 and the Heineken Cup. His second row battle with Ulster's talismanic leader, Muller, will be one for the purists.
There are some who lament the day Irish rugby started taking the game seriously. Most of the great old characters from yesteryear are now gone, their laissez-faire attitudes with them. Their terrific old jokes remain but no one makes jokes any longer at the expense of Irish provincial sides like Leinster and Ulster. They are too good for that.
What they have brought to replace the characters of old, men who thought nothing of downing 15 or 20 pints of the black stuff on a Saturday night at the clubhouse bar, is excellence on the field. They will surely confirm the point at Twickenham tomorrow where Leinster should win their third Heineken title, retaining the trophy after last year's victory over Northampton.