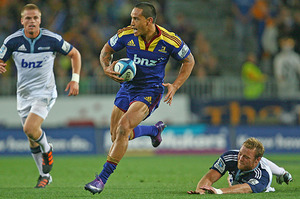 Highlanders wing Hosea Gear admits he is talking with a Japanese club but he has not given up on his dream of wearing the All Black jersey.
Gear, 28, was not named in the first All Black training squad for the Ireland tests but has been told he is on standby, and could fill the shoes of injured outside back Richard Kahui. After making his debut for the All Blacks in 2008, Gear has been in and out of the national side.
"You are always disappointed to miss out but my form has not been that great and that is what happens. In top footy that is how it goes," he said. "I have been in and out of the All Black squad, so it is just another thing I am used to. Shag [coach Steve Hansen] gave me a ring and he was really good about it. He mentioned that Richie [Kahui] was injured and I'll be on standby along with Zac [Guildford] and a few other guys. We'll just have to see what happens."
Gear's future in New Zealand does appear to hinge on whether he wears the black jersey this year. He is not attached to a provincial union and may head overseas at the conclusion of the Super 15.
"I am just in discussions with a Japanese club at the moment and we'll just wait and see what happens. Leave that up to the agents. So that is a possibility."
He admitted it was time to make a big call on where he would play in the future. He declined to reveal the Japanese club he was talking to. "But I'll only be 31 when the next World Cup comes around so I could come back here and have a go at that."
Gear described his form this year as patchy, and he appears to have lost his place in the All Blacks to strapping Hurricanes winger Julian Savea. "I'm not feeling that good about it [form]. But the good thing about that is it gives me things to work on and offers challenges for myself and set goals for that.
"I just need to get my hands on my ball. There has not been a lot of space and defenders have been looking out for me. That makes me adjust my game a bit, and try and find some holes and run off them."
The Bulls come to town this week, and Gear is expecting a tough workout from the South Africans. "They are pretty physical and use the ball a lot. And they will use quite a lot of high balls. Hopefully we have got the game plan to take them on.
"Things might change out on the field and it depends on what sort of picture they want to paint for us. But they are one of teams in the competition which kick the most and they bring up quite a good defensive line so we will just look to hang on to the ball."
The side went down narrowly to the Hurricanes last week, with errors at the wrong time costing the Highlanders. Gear said the side, which sits right on the edge of the playoffs, cannot afford a repeat of what happened against the Hurricanes.
"Last week we were trying to build pressure and just turned the ball over. In tight games you can not afford to do that.
"The games in the past that we have managed to win, we have kept hold of the ball for some time. We just need to get back to doing that."