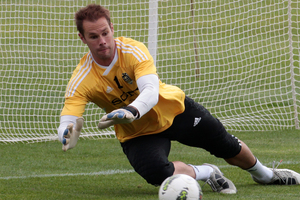 Mark Paston will be back with the Wellington Phoenix next season after he signed a one-year deal with the club yesterday.
The All Whites' custodian, who had an outstanding A-League season, joins fellow New Zealand international Glen Moss, signed from Gold Coast United, to give the Phoenix arguably the strongest goalkeeping line-up in the competition.
"I feel I've still got plenty to offer and am looking forward to next season already,'' Paston said.
"Glen and myself have been vying for the goalkeeping spot at the club before, as well as with the All Whites, and it will be good to have such strong opposition for the position.''
The pair will get a chance to size each other up when they go into the All Whites camp on Saturday to prepare for games against Honduras and El Salvador as a lead in to the OFC World Cup qualifying tournament in the Solomon Islands.
"The timing of these games is good for me because I think if you have too long off between seasons the body can relax a bit too much,'' Paston said.
"It will be a good lead in to pre-season training, though I will have to take a couple of weeks break for a minor operation to take screws out of my leg.''
Phoenix head coach Ricki Herbert was pleased to get the deal to retain Paston over the line.
"Mark had a fantastic season and it was important to keep him at the club,'' Herbert said.
- APNZ