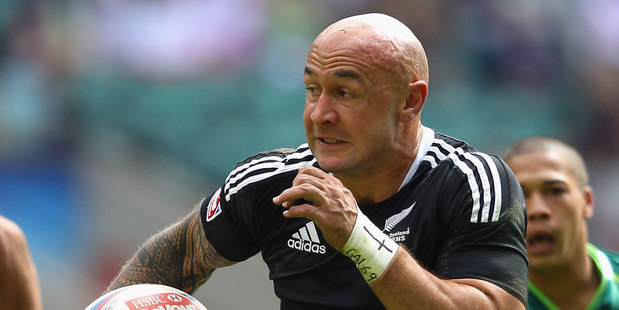 A weary DJ Forbes arrived home with the rest of his victorious New Zealand Sevens teammates today, saying he wants to play at the Rio Olympics but wonders whether he will still be required.
Skipper Forbes turns 30 in December, meaning he will be 33 when Rio rolls around. Coach Gordon Tietjens, inducted into the IRB Hall of Fame after the team clinched their 10th title at Twickenham, has told Forbes he wants him in South America.
But Forbes said age wouldn't necessarily be the main factor, nor would a lack of fitness, rather it was the nature of sport that bigger and better players were always coming through and he might not command a place in the team.
"'Titch' wants me in the Olympics. You look at Rushy [Eric Rush] and those guys, they played into their late 30s. Physically, no worries there, I will make it there, but whether I will be good enough to hold my spot, that's a different story. There's a lot of good schoolboys coming through so who knows what could happen in the next couple of years."
Forbes has recently spoken of giving up playing 15s for Counties in order to prolong his sevens career, but confirmed today he would be turning out for the Pukekohe-based team in this season's ITM Cup.
Maintaining high standards are a given for Forbes, who suggested he would be doing everything possible to win an Olympic gold medal. And top of the list is his physical fitness.
"Being captain, I have pretty high standards. I'm easily at the top of the pack [fitness] in terms of the team. There are rumours going around that me and Tomasi [Cama] are getting close to our 30s and starting to peak now but there's definitely a lot more in the tank and I'll do whatever it takes."
Forbes said winning the title in London by beating South Africa 36-0 in the quarter-final was high on the list of his achievements. Although New Zealand lost to Fiji 31-7 in the semifinal, they thrashed Argentina 40-0 to finish third.
"It would have to be right up there. It's getting tougher and tougher to win a world series. We've been pretty consistent all year. In that quarter-final we put pretty much our whole year into that and you get see that when we fizzed out against Fiji."

- APNZ