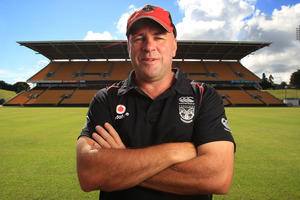 Warriors coach Brian McClennan says he is shocked at reports the club could have to make a permanent move from Mt Smart Stadium.
Rather than upgrade what has been the Warriors' home since the NRL club's inception in 1995, the Council-controlled Regional Facilities Auckland is proposing to move the city's speedway from Western Springs to Mt Smart.
Eden Park looms as the obvious potential new home for the Warriors, who have played their last two opening games of the season there.
"In regards to Mt Smart, that's our home, that's where our members and fans like to come and watch us, so I'm a bit shocked,'' said McClennan. "I just hope with this that our members and fans get a say. I'm worried about them. And also, why don't the council canvas the people of our city of Auckland? Has that ever been done? What do they want?
"I'm real clear on this. Let's give the people of Auckland a voice. Let's find out what they want in stadiums.
Do we need two stadiums? We're a big city, Auckland, we're a proud country, New Zealand. We've got very good sportspeople, right across in all sports. Give them a voice.''
McClennan said he had no preference about where his club was based, rather, he would go where the fans were happiest. It's likely that that will be Mt Smart, rather than Eden Park or anywhere else, in the near future.
Eden Park has issues of its own, most notably around traffic and parking, and the suburban ground has not been a happy hunting place for the Warriors. This year they lost 26-20 to defending champions Manly - although the fact that they played in front of more than 37,000 suggests some fans are prepared to travel there. Last year they lost 24-18 to the Eels.
"I'd like us to be where our fans are happy. But if there is going to be no money invested in Mt Smart and the seats and everything are going to rust away, well that's not a good environment to watch sport. This is definitely not a league vs other sports [issue]. Let's be constructive about this and do what's right for New Zealand.''
The Warriors players had been briefed not to comment on the issue but prop Jacob Lillyman said he would be opposed to any move to Eden Park.
McClennan said it was time the whole sporting stadium in Auckland issue was looked at again, with his preference being a ground with a roof, like Dunedin's Forsyth Barr Stadium.
"We've got a bit of a weather problem at times in Auckland and do we need a roof with a stadium? I'd argue that a lot of people would say `yes, that makes a lot of sense'.
"I'm lucky I've lived overseas through sport and been around the world and looked a different venues and we deserve the best that we can afford because we're good at sport.''
Warriors chief executive Wayne Scurrah was noncommittal over the proposed plan, saying it was not discussed when he met with Regional Facilities representatives last week.
"We need to know a little bit more,'' he told Radio Sport.
"We've lived all of our lives at Mt Smart Stadium, since 1995, and we still remain committed to Mt Smart Stadium, so I guess we need to understand from the city what is the master plan of the stadium.''
- APNZ