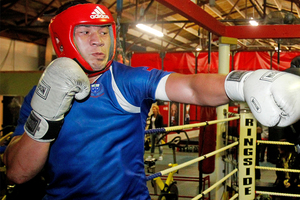 It was supposed to be 20-year-old Joseph Parker's moment in the spotlight, but today's announcement that he will turn professional was disrupted by New Zealand Professional Boxing Association president Lance Revill, who urged caution in handling the youngster's career.
The press conference, held in a bar in Auckland's SkyCity, was called to announce that Parker, a promising heavyweight amateur who missed out on a spot at the London Olympics, will make his professional debut against a yet-to-be-determined opponent on the undercard of the Shane Cameron v Monte Barrett fight in the city on July 5.
Revill, who was not one of the six at the top table for the announcement, interjected from the floor when saying Parker should not make the same mistakes he did as a youngster when quitting the amateur ranks.
"He's the most talented amateur boxer I've seen for a long time,'' Revill said. "He's got the height, size, speed and punch, but it's important they don't fast-track him into the pros too fast and I'm saying don't give him his first 10-rounder for at least a year and a half.
He must come up slowly.
"Six rounds, eight rounds, get him used to going the distance. If he's knocking guys out early, don't fast forward him to 10 rounds because when I fought [Fiji-born Australian] Semi Bula, when I got to the seventh round I'd never been there before because I was finishing guys in two rounds. I was lost, I couldn't find my way, I was in water that was too deep for me. I don't want to see that happen with Joseph.
"You get a guy with 20 unbeaten fights as a pro and he's done quite serious 10-rounders then you've got a guy who is marketable, his confidence is high and he's going somewhere, but if you fast with him with the big stuff early on, you're going to knock his confidence.''
Revill's fight against Bula in 1974, scheduled for 10 rounds, was Revill's fifth as a professional following a promising amateur career. It finished in a seventh-round TKO and was his first professional loss.
Sir Bob Jones, who is Parker's manager and was on the top table at the press conference alongside Parker, his father Dempsey, promotor Dean Lonergan, Sky TV chief executive John Fellet, Cameron and Ken Reinsfield, his manager, acknowledged Revill's points.
Lonergan, however, wasn't as impressed, saying: "Lance, you've been invaluable. Any other questions from the media?''
Parker, meanwhile, appeared relaxed at the conversations going on around him and nodded at Revill's advice.
While the disappointment of missing out on a trip to London spurred his decision, the 1.83m tall and 111kg Parker is likely to be a hit in the pro game.
"I reckon my style is more suited to the professional game and I'm looking forward to turning pro and having my first fight,'' he said.
He recently beat Erick Pfeifer, a world championship bronze medallist from Germany and Australian Johan Linde, who claimed Oceania's sole heavyweight berth at the London Games this year.
Cameron, who has sparred with Parker, was impressed. "He's certainly got a lot of ability and a lot of talent,'' he said. "Unfortunately he didn't make the Olympic team but it's like you're starting all over again when you turn professional ... he's got the ability, it's up to him now how far he wants to take it.''

- APNZ