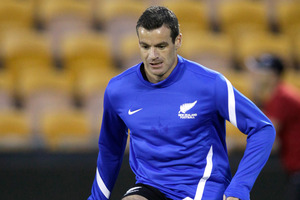 The All Whites could be without their talisman captain Ryan Nelsen for the upcoming friendlies against El Salvador and Honduras in the United States later this month.
Despite Nelsen being named in the latest All Whites squad, coach Ricki Herbert hinted his long-serving central defender and captain would be given extra time to recover from a testing English Premier League season.
"Ryan is extremely committed to both the All Whites and the Olympics but there's a massive doubt whether we'll use him [in the US or the Nations Cup]," said Herbert. "He needs some time to repair himself and we may elect not to take him at all for the All Whites matches at this stage."
Herbert has taken the opportunity to look at some fresh players when naming his squad for the first real steps of the 2014 World Cup campaign.
Selecting the squad for the US warm-up matches - he didn't call them "friendlies" - and for the Oceania Nations Cup which follows, Herbert has given debutantes Tim Payne and Cameron Howieson the chance to further press their claims for the Olympic tournament in London.
Ten of the players, including Howieson and Payne, have played 10 or fewer games for the All Whites, Rory Fallon and Michael McGlinchey just 11. At the other end of the scale, Ivan Vicelich (74), Ryan Nelsen (46) and Leo Bertos and Chris Killen with 40, provide the experience.
"It's a really exciting time," said Herbert. "It's a great opportunity for players like Cameron and Tim. They're both in a professional environment in England and really excited to have their chance."
With Tony Lochhead excused from the two US games in the US - for his wedding - the fullback stocks again appear thin leading Herbert to say they may well, for those two games at least, revert to the three-man defence used successfully in the past.
"We have so many players now in a professional environment we're in a very healthy position. There's also a strong synergy between the All Whites and the Olympic squad which strengthens our position."
Of the player likely to fill the midfield role left vacant by Tim Brown's shock retirement, Herbert said Michael McGlinchey had a great chance to make it his own, or possibly Vicelich who could take a holding role.
Herbert is confident recent Phoenix signing Glen Moss should be ready but is not discounting giving US-based Jake Gleeson goalkeeping time there.
SCHEDULE
New Zealand v El Salvador
May 23, BBVA Compass Stadium, Houston, USA, 12.30pm May 24 (NZ time) live on SS3
New Zealand v Honduras
May 26, Cotton Bowl Stadium, Dallas, USA, 12.30pm May 27 (NZ time) live on SS3.
OFC NATIONS CUP/FIFA WORLD CUP QUALIFYING
Honiara, Solomon Islands (all games Lawson Tama Stadium)
New Zealand v Fiji
June 2, 1pm (NZ time)
New Zealand v PNG
June 4, 1pm
New Zealand v Solomon Islands
June 6, 4pm
Semifinals
June 8, noon/4pm
Final
June 10, 4pm.