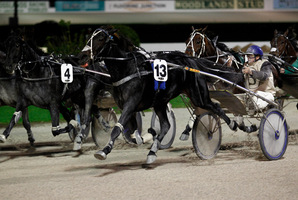 Harness racing bosses have declared the $1.2 million Jewels meeting is here to stay but it could undergo a revamp.
Harness racing's richest day will be at Cambridge on June 2, with nine races for 2-, 3- and 4-year-olds.
Since being launched five years ago, the Jewels has become one of harness racing's great success stories, putting an exclamation mark on the season and bringing a wide array of equine talent together because it is open to all horses and chosen on stake earnings.
But like any new racing or sporting event, Jewels Day is losing its novelty and Harness Racing New Zealand boss Edward Rennell says changes are possible.
And he says the promise that the Jewels will remain will stand even if the industry is knocked by proposed changes to regulations on the use of pokie machine money.
Controversial changes to the law covering gaming machines could see the entire racing industry hit with a loss of income but the Jewels concept must stay, says Rennell.
"It has become a very important part of the harness racing calendar," said Rennell.
"We are all looking forward to the Jewels at Cambridge in a few weeks' and we are committed to it being at Ashburton next season.
"But then we are going to sit down and discuss, with a whole range of people, what, if any, changes are needed."
That discussion could touch on subjects ranging from venues, distances and even allowing 5-year-olds into the now 4-year-old section of the series.
Once query bound to be raised is the participation of Australian horses, which is rare because the 12 starters for each division are chosen solely on stakes won in New Zealand.
Another point will be the exclusion of stakes won in Sales Series races, even though getting into those races does not come cheaply.
While HRNZ bosses are looking at ways of improving their flagship series, Victorian officials have created a new race set to get hearts of trotting fans racing.
The Great Southern Star will see the best trotters in Australasia race in two heats of 10 horses each before a A$250,000 final on the same day in March.
While heats and final racing on the same programme is almost unknown in this part of the world it is immensely popular in Scandinavia and, occasionally, in North America.
The concept is based on the world famous Elitlopp in Sweden and HRV officials are hoping the new race will eventually attract European stars.
The GSS continues a resurgence for trotters in Australasia, with new races like the Anzac Cup and Trans Tasman Challenge set to overfill the gap left by the end of the Interdominion Trotting series.
"And we are right behind that," says Rennell.
"We think the new race is great for trotting and we also hope to keep the Anzac Cup going and build it into a Triple Crown alongside the NZ Trotting Champs and Rowe Cup."
Rennell said there was nothing in HRNZ's rules to stop a club programming heats and final racing at the same meeting, although the concept had not been tried in New Zealand for more than a decade and not with the best horses.
That new string of big-money trotting races could see Kiwi champion I Can Doosit, who is set to be the pin-up boy of harness racing next season, race for more than $1 million in two months between March and May next year.
Meanwhile, Auckland Trotting Club bosses are reported to be looking at a bold new initiative to confirm Alexandra Park as an even more regular destination for New Zealand's elite horses.
An announcement is expected within weeks of a change of programming policy which will delight the trainers of New Zealand's best horses.