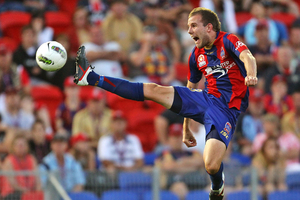 New Wellington Phoenix recruit Jeremy Brockie believes he will be able to strike up a dominant attacking partnership with Paul Ifill next season.
The 24-year-old footballing nomad was unveiled today (Monday) by the Wellington club - Brockie's fifth A-League team - after he parted ways with the Newcastle Jets at the end of the recently-concluded season.
Brockie has also played for fellow A-League clubs the New Zealand Knights and North Queensland Fury (who are now both defunct), Sydney FC and Newcastle in between stints with ASB Premiership sides Hawke's Bay United, Team Wellington and Canterbury United.
The 2010 World Cup All White also knocked back interest from Asia and the United States to link with the Phoenix on a three-year deal, and said playing with Ifill was a drawcard.
"I've enjoyed watching him over the last couple of years since he's come to Wellington and he's that sort of player that can create goals and score them himself,'' Brockie said.
"So I'm looking forward to building a partnership with him and hopefully we can go far with Wellington and push for a championship.
"The last couple of seasons I've sort of missed a creative player like him to help me further my career so I'm looking forward to linking up with the likes of Ifill and Leo [Bertos] and the rest of the attacking crew to hopefully be a good strike force.''
Brockie spent the past two seasons with the Jets and his ability to play in a range of attacking positions will be valuable to Phoenix coach Ricki Herbert in the wake of Brazilian winger Daniel's departure.
The Nelson product is equally adept at playing up front as a striker or as a roving player out wide and could be of great use down the left, which would allow Dani Sanchez to push into the middle of the park, where he was much more prominent last year before Herbert forced him out to the flank.
Brockie scored nine times for the Jets last season and said it was nice to be able to sign a long-term contract having previously played year by year.
"The other contracts I've signed at other clubs have been one and two-year deals and most of the clubs have folded that I've been at as well. So obviously that was another reason I came to Wellington. They're very secure now obviously they've got all their problems sorted that they had in the past, and security's a big part of football.''
There is one more added bonus of playing in Wellington for Brockie and he said being under the nose of Herbert, who also directs proceedings for the All Whites, was important looking ahead to the 2014 World Cup in Brazil, which New Zealand are aiming to qualify for.
"The next couple of years for the All Whites are so important and I didn't want to disappear to a country where I'd be out of sight, out of mind sort of thing. So I'm excited to be here in Wellington and looking forward to it.''
- APNZ