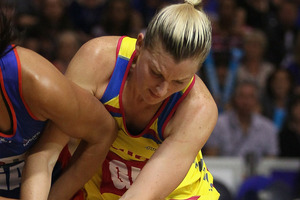 Netball has become increasingly statistically minded in the past few seasons and it seems Katrina Grant has made it a personal mission to be mentioned in as many categories as possible.
The Central Pulse defender has made her best start to a transtasman netball campaign in her career and, despite the Pulse's two-win four-loss record, the Silver Fern has formed a formidable defensive duo with Te Huinga Reo Selby-Rickit.
As netball evolves as a professional sport, the analysis and statistical databases that keep track of the game have become more thorough and Grant is among the top seven players across the ANZ Championship in deflections, intercepts and rebounds - not that she has looked up the numbers lately.
"Stats have become huge," Grant said. "They are important but, for me, I don't really look in to them too much because you can get caught up in them. Then you can go in to a game thinking 'oh my gosh, I haven't got any ball' or 'oh my gosh, I've just thrown away three passes' and it kind of plays on your mind.
So I don't really like to look at them too much."
As the Pulse stumbled to a 39-36 loss to the Swifts in Sydney last week, Grant grabbed a remarkable seven intercepts to take her season's tally to 16 and it's her partnership with Selby-Rickit, who is known as 'Hu', that has been the backbone of the Pulse this year.
Of their four losses, only one has been by more than four goals and their major concern has been an inconsistent mid-court who haven't been able to provide Australian import Caitlin Thwaites with enough quality ball in the shooting circle.
"I think it's not just Hu and I. It's also having Joline Henry in there at wing defence who is doing hard yards on the [opposition] wing attack and putting pressure on that ball which makes it really hard to get in to the shooters," Grant said.
"Playing with Hu, I really love it. She's just cruisy, pretty much does anything I tell her to do, which is awesome. But we just have this understanding of each other and she knows where I want her to go and I know where she wants me to go and it works."
Grant's form will be comforting for Silver Ferns coach Waimarama Taumaunu, who has plenty of depth in her defensive end with Casey Williams, Leana de Bruin and Anna Harrison (nee Scarlett) all in strong form for their respective franchises.
New Pulse coach Robyn Broughton hasn't ridden into town with any magic potion to get Grant performing to new heights this year but the 1.86m 25-year-old has seen the benefit of being able to have a proper pre-season campaign.
After having three stress fractures in her feet during the past four years, Grant was able to have a thorough build up to this season and the Pulse captain has reaped the rewards.
"It makes a huge difference when you're actually able to get into the game and get your fitness up and have pre-season games under your belt. In the past I haven't been able to do that, so instead of trying to hit my peak mid-season I can try to hit it at the beginning ... But I still want to get better and help our team win more games."
Her next opportunity comes on Monday night when they host the Waikato-Bay of Plenty Magic in Porirua.

- APNZ