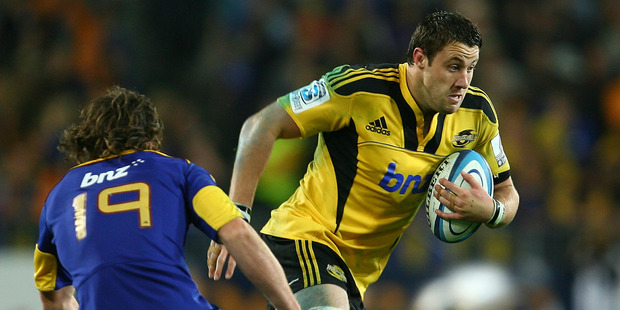 Highlanders 20 Hurricanes 26
Full-blooded and thrilling, the rugby was of such quality that it almost didn't matter, to the neutral at least, which side won in Dunedin last night. It mattered very much to the respective teams, which is what made the contest so absorbing.
Desperation was in the air - defeat was going to condemn both teams to barely outside contenders to make the top six and the tackles were hard, the rucking brutal and every part of the game loaded with intensity.
It was a dramatic blast from Julian Savea that eventually won it for the Hurricanes. They had been edging closer to a famous victory on the back of a relentless second half defensive effort where they shut the Highlanders down.
The men in blue kept coming at them, but the line stayed firm. The longer they held out, the more it felt it was going to be their night and so it was.
Some neat handling led to Savea powering onto the ball down the right flanks and bouncing off two tackles at full tilt to score.
It was what the Hurricanes deserved. Not only was their defence rock solid but for the first time this season, they had the edge at both the scrum and the lineout. They enjoyed parity at the collisions too and there ended up being nowhere for the Highlanders to go.
They couldn't find dominance anywhere and every half gap closed on them. At 14-6 down early in the first half, they were potentially in trouble. The Highlanders were flowing, playing with width and tempo. But the visitors dug in. Slowly found their feet and edged their way back into the contest through the boot of Beauden Barrett. A soft try to Faifili Levave early in the second half put them in front for the first time and the momentum was with them.
What gave proceedings an added dimension was the sub-plot of the individual battles for higher honours.
Both Ben Smith and Andre Taylor played with an element of inhibition that has not previously been present. It was as if they sensed they were on trial - which they kind of were. It's likely both will be named in the All Black wider training squad - but only one of them will probably make the cut when the squad is trimmed to 30.
Smith made a couple of uncharacteristic mistakes - appearing to be a little indecisive at times when he fielded in defence. Normally he looks up, assesses well and finds the space. Last night he looked like he was thinking hard about what to do and that led to him finding defenders instead of space. He was also guilty of forcing the offload - another sign there was a touch of nerves jingling in the system.
There was, however, still plenty to admire about his overall game. His appetite to be involved is insatiable and he's not one to hide, or clam up if things aren't quite going his way.
Taylor's performance was similar in that he too wasn't able to be the eye-catching force he wanted.
What he found, and what he'll continue to find now, is that opposition defences will have spent more time than before analysing his game. The Highlanders crowded him, rushed him and tried to close down his space. While that was a mark of respect, it was mostly a frustration that left Taylor shackled and reduced to using his boot plenty.
The other individual duel that made fascinating viewing was that of the halfbacks.
Aaron Smith and TJ Perenara are the two hottest young things to emerge in that position for some time. A bit like Ben Smith and Taylor, there is a vibe that Aaron Smith and Perenara are battling for one halfback spot in the national set-up.
There wouldn't be much argument that Smith advanced his cause and was the more composed, aware and accurate. His whippy, flat, hard passes have been a talking point all season but what stood out last night was his tactical appreciation and effective kicking game. He's grown in stature and has multiple facets to his game that hint at him being not so much a squad contender but a starter.
Perenara's time will come. His energy was up where it always is and he was looking to make it happen. Maybe too hard - some of his accuracy deserted him, but he's a player that keeps things interesting and at just 19, he's on his way to being something special.
Highlanders 20 (C. Noakes, A. Thomson tries; C. Noakes 2 cons, pen); Hurricanes 26 (F. Levave, J. Savea tries; B. Barrett 4 pens, 2 cons).