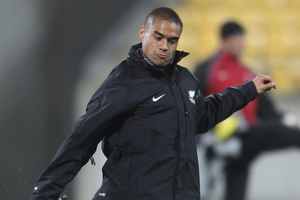 Ryan Nelsen, Winston Reid, Rory Fallon and Tony Lochhead are the All Whites stalwarts expected to be missing on the first leg of The Road to Rio next week.
That is when coach Ricki Herbert names his All Whites squad for the Oceania Nations Cup in June, as well as the two-match tour to the United States later this month. Herbert will take 20 players to the US for the games against El Salvador and Honduras and then a 23-man squad to the Solomon Islands.
It is believed that Nelsen and Fallon will be unavailable for the American leg while Lochhead will also miss the trip as he is getting married. West Ham defender Reid is also in doubt, as he will be playing in England's Championship playoff final just three days before the El Salvador match in Dallas.
The rest of the squad from February's loss to Jamaica should figure at the Nations Cup, though Scott Basalaj faces a battle with Jake Gleeson and Stefan Marinovic for the third goalkeeping spot behind Mark Paston and Glen Moss.
The defence will feature Reid, Nelsen, Tommy Smith, Ben Sigmund, Lochhead and Ivan Vicelich, although the Auckland City veteran may be used in a defensive midfield role, given the retirement of Tim Brown and the continued unavailability of Simon Elliott.
Dan Keat showed enough against Jamaica to earn another shot, though he has been languishing in the reserves at the LA Galaxy while Sweden-based Craig Henderson, Andy Boyens and Michael Boxall should also be strong contenders.
Aaron Clapham remains a polarising name in New Zealand football but should get game time, especially given the condensed nature of fixtures at the Nations Cup.
He was again one of the players of the season in the ASB Premiership and Canterbury seemed to fall apart when he left the field injured in the second leg of their semifinal against Waitakere United.
Outgoing Phoenix midfielder Daniel is eligible for the All Whites but would be a strange choice.
Maybe back in 2007 he would have had something to contribute but the 32-year-old is in the twilight of his career. The fact he hasn't been fit enough in the last two seasons to be considered a 90-minute option by Herbert must also count against him and it would surely make more sense to select a promising youngster instead.
Indeed, it would be no surprise to see Herbert take the opportunity to blood a couple of starlets from Neil Emblen's Olympics squad.
Ian Hogg and Luke Rowe could be in contention, as could Greg Draper and Cameron Lindsay. Waikato FC's Adam Thomas would be a long shot while Team Wellington's Louis Fenton, who is currently playing in the Victorian State League, is another who has impressed.