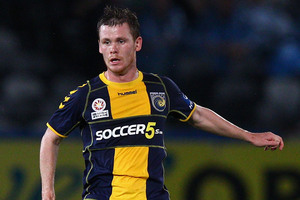 It's been the making of Michael. By any measure, Michael McGlinchey has had a stellar 12 months, the kind that can be career-defining.
His Central Coast Mariners side took out the A-League minor premiership as McGlinchey was voted the fans' player of the season.
Coach Graham Arnold, who has been a "massive influence" on McGlinchey's career, has also agreed to stay on at the club for another season, after a prolonged period of courting from Sydney FC.
The 25-year-old McGlinchey scored his first international goal against China just over a year ago and the surprise retirement of Tim Brown has created a vacancy in the All Whites' midfield.
The national team also seems ready to take a more attacking approach, tailor-made for McGlinchey's game.
In recent weeks, McGlinchey has become the first Kiwi to play in the Asian Champions League, getting on the scoresheet as his side demolished China's Tianjin 5-1.
"It's been a hell of a year," McGlinchey told the Herald on Sunday, "and I am happy with what I have contributed. It's been a long season but I am feeling good and ready for more."
Rugby league legend Wally Lewis liked to talk of the quick drop from the "penthouse to the shithouse" in a sporting career and McGlinchey knows all about tough times.
Less than three years ago, his career was going nowhere. Originally a prodigy at Celtic, good enough to represent Scotland at under-20 level, he was then unwanted at Parkhead and had been unable to pick up a deal anywhere else in Scotland.
He turned down a trial with FC Toronto of the MLS, having been for an unsuccessful audition at the Canadian club a few months previously.
"In Scotland, all I was hearing was that I wasn't strong enough or tall enough," says McGlinchey. "It was a bit of a crazy time, as I wasn't getting games at all. But I tried to keep my confidence up and kept on training hard."
He eventually decided to try his luck with the Mariners, receiving an invaluable boost on the eve of the trial.
"I got a message before I headed to the club for the first session," recalls McGlinchey, "saying that Ricki [Herbert] wanted to name me in the All Whites. I was buzzing and felt two feet taller as I got to the training ground. I was never going to miss out after that."
The Mariners face Nagoya Grampus in Japan in the ACL on Tuesday, knowing that a win will seal a place in the last 16.
The Mariners' Champions League foray has helped the side recover from the disappointment of their A-league finals exit, beaten on penalties by Perth Glory.
"It was a bit disheartening, to be honest," says McGlinchey. "We should have finished it in normal time. It took us a while to get over it; the next game, we were beaten 5-0 [in South Korea] and you could tell the boys weren't really there."
McGlinchey missed the decisive penalty against Perth. It is a lonely place - football legends such as Zico, Roberto Baggio, Lionel Messi and Cristiano Ronaldo can relate to it - but the All White has been quick to put it behind him.
"Taking one is never easy in that situation when nobody has missed," says McGlinchey. "Maybe I was a bit tense and just leant back a bit and it went over. But the boys were good about it and I can't dwell on it."
McGlinchey has come of age in 2012, within an efficient Mariners side.
Where in the past, he may have been guilty of drifting in and out of games, this season, he has been one of the focal points of a razor-sharp attack.
Arnold uses him on the right side of a midfield diamond, with a licence to roam allied with defensive responsibilities.
After his Asian adventures, McGlinchey's focus will switch to international football, with the matches in the United States against Honduras and El Salvador before the Oceania Nations Cup in the Solomon Islands in June.
And more than ever before, McGlinchey seems ready for the All Whites.
He has added a more robust side to his game and feels fitter than ever.
Ricki Herbert seems ready to throw off the shackles, with talents such as Marco Rojas and Kosta Barbarouses in the mix.
New Zealand has long cried out for a genuine creative influence in the middle of the park who is also dangerous with the ball at his feet.
"Ricki has got a lot of options at the moment," he says modestly. "I just hope I can be involved. It's a very strong squad but I also feel confident, coming off the year I have had."