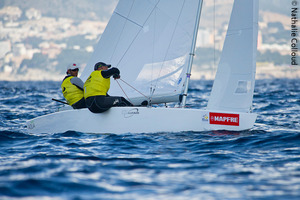 Hamish Pepper and Jim Turner have done what was asked of them by qualifying the boat for the Olympics, now it's up to the selectors whether or not they get to sail in the Star class at the London Games
Pepper and Turner, who teamed up as late as October for a tilt at London, qualified for the Olympics by virtue of their seventh-placed finish at the Star world championships at Hyeres, France.
They needed to finish in the top four of nations who hadn't already qualified for London and did that comfortably at a regatta won by the 2008 Olympic champion Brazilian crew skippered by Robert Scheidt.
It was a continuation of their good form. Pepper and Turner finished fifth at the Princess Sofia regatta in Spain in March - they were leading the event until they received a controversial penalty in the final race - and were eighth at the prestigious Bicardi Cup in Miami.
It is a compelling case but the selectors might want to assess to their form at next month's Sail for Gold regatta at Weymouth to be certain.
New Zealand are now one of only a select group of nations who have qualified in all 10 disciplines for the Olympics - seven boats have already been confirmed with the Finn, women's RS:X and Star yet to be decided.
Peter Burling and Blair Tuke have already been given their boarding pass to London and they remained in second overall at the 49er skiff world championships in Zadar, Croatia after another three top-10 results in races overnight. They finished seventh, first and third and go into tonight's final day of racing just nine points behind the reigning world champions Nathan Outteridge and Iain Jensen of Australia and with a 21-point buffer on the third-placed French crew of Manu Dyen and Stephane Christidis.
With two races before the double point medal race for the top 10 crews only, Burling and Tuke are a good chance of adding at least another silver to the one they picked up at last year's ISAF world championships off Perth.
Marcus Hansen and Josh Porebski, Burling and Tuke's training partners, are also in contention for the medal race sitting in 10th.
New Zealand's sailors have proved to be in good form about 75 days out from the Olympics with two bronze medals from recent world championships. JP Tobin was third at the men's RS:X in Spain and Andy Maloney also picked up bronze this week in the Laser class sailed in Germany _ although Maloney won't be competing at the Olympics with that spot going to Andrew Murdoch.
The men's and women's 470 crews of Paul Snow-Hansen and Jason Saunders and Jo Aleh and Olivia Powrie begin their world championships in Barcelona tomorrow night (NZT).
Dan Slater also starts the Finn world championship in Falmouth, England, tomorrow night and will be hoping for a top finish to convince the Olympic selectors to include him in the New Zealand team.
Final standings from the Star world championships
7th: Hamish Pepper and Jim Turner
Standings from the 49er world championships
2nd: Peter Burling and Blair Tuke
10th: Marcus Hansen and Josh Porebski

- APNZ