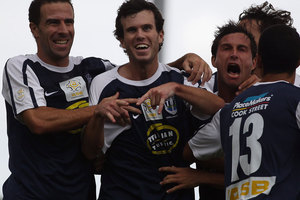 Ramon Tribulietx is determined his Auckland City players not get too hung up on the need to score an early goal in tomorrow's O-League final second-leg clash with Tahitian champions AS Tefana in Papeete.
City hold the advantage of having won the first leg 2-1 a fortnight ago at Kiwitea St, but are aware that the away goal scored by the Tahitians would prove decisive if they were to win the return 1-0 and level the tie 2-2.
"We know that any draw would be good enough for us to take the O-League title," said Tribulietx. "But we are not thinking about a draw. As always, we will go into the game trying to win. You can't afford to sit on a score like this and think you can go through. One goal for either team will change the game plan.
"We will go into the game as we have all season trying to dominate but we know it will be difficult up there. Conditions in these countries are always tough and an obvious advantage to the home team."
On the question of the artificial pitch, Tribulietx was unconcerned.
"We have been training on the same surface at North Harbour Stadium and given the pitch conditions you are sometimes faced with in these smaller countries, an artificial pitch is often a lot better."
Asked about City's apparent fall-off in form in the latter stages of the season, Tribulietx agreed that his players had been creating scoring chances but had failed to convert, often denied by the woodwork.
"We have been playing the same way but we haven't been good enough to finish off the chances we have had. Even against Tefana in the first leg we could not put them away, missing three one-on-one opportunities," he said.
Emiliano Tade returned to New Zealand from Argentina and was a late inclusion in the team, joining Daniel Kopricvic on a flight yesterday.
Ivan Diaz replaced Simon Arms in the City squad with Tade coming in for Riki Van Steeden.
Tefana have yet to lose at home this season and will be backing that record in their bid to become the first Tahitian team to go through to the Fifa Club World Cup for the minimum US$500,000 ($637,000) prize.
Coached by Laurent Heinis, Tefana were thumped 10-0 on the opening day away to Waitakere - the biggest losing margin in O-League history - but bounced back with an undefeated run in the group stages.
"After the result of the first leg of the final, anything is still possible," said Heinis. "We believe Auckland are in a stronger position because they hold the lead. We are therefore the underdogs and are approaching the match from that perspective."
O-LEAGUE FINAL, LEG 2
AS Tefana v Auckland City
* Stade Louis Ganivet, Papeete
* Tomorrow, 2pm (NZ time)
* Referee: Isidore Assiene-Ambassa (New Caledonia).