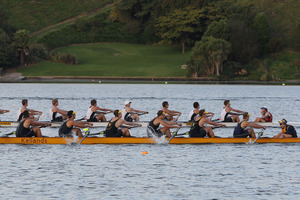 New Zealand are one of three contenders to take the final spot in rowing's most celebrated race at this year's Olympic Games.
The entries are in for the final Olympic qualifying regatta at Lucerne, starting on May 20, and New Zealand, France and the United States are the only countries lining up in the men's eight.
Just the winners will progress to London, but New Zealand have their work cut out.
At their only leadup regatta, in Belgrade last weekend, New Zealand finished last in their repechage to miss out on a spot in the final.
France, by contrast, finished sixth in that final, although in a slower time than New Zealand produced in their repechage. Put that down to contrasting weather conditions, but in their repechage they were more than 3.5s faster than the New Zealanders.
The three rivals will have one race to determine lanes, then the final early on May 23 (NZT).
New Zealand's other Olympic hopefuls, the lightweight men's four of Duncan Grant, Graham Oberlin-Brown, James Lassche and Curtis Rapley, have 10 rivals for the two spots on offer.
They will have two heats, and two repechages to find the finalists.
But several of New Zealand's rivals can be discounted. China were in the A final of last year's world championship and they, with the Netherlands, were in the A final last weekend.
In Belgrade, New Zealand led through the first three-quarters of their repechage. They know they're not far off the mark.
A total of 28 boats will get Olympic selection in Lucerne, bringing to 550 the number of athletes, in 202 boats, to have qualified for London.
The most popular events at the regatta are the single sculls, with 22 in the men's and 17 in the women's.
If New Zealand do qualify the eight and the lightweight four, they will have 13 crews in the Olympics - all classes but one.
New Zealand have not tried to qualify for the women's eight.