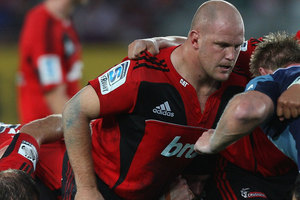 All Blacks prop Ben Franks returns to his hometown Melbourne for tomorrow's match against the Rebels with a warning for the much-changed Crusaders to be wary, even though the home team have won only twice this season.
Over the years in Super rugby, struggling teams caused the top tier teams the most strife, he said.
"They've had some good performances against top tier teams and, if we don't give them the proper respect, they could easily beat us."
Franks, appropriately born at Frankston when his father was based in Melbourne with the navy, came to New Zealand as a two-year-old.
The Crusaders have been criticised for winning messy against the champion Reds last Sunday, and Franks said there were some things they could control they could have done better.
The Rebels, who took a lot of confidence from holding the Bulls to a six-point margin last week, have taken note of how the Reds wrecked much of the Crusaders' execution by putting them under intense pressure and bringing the defensive line up rapidly.
With a short turnaround, the Crusaders had only one full training session this week and concentrated on getting back to basics.
Franks, who will come off the bench, hopes he and his fellow props, brother Owen and Wyatt Crockett, will all have their names read out for the All Blacks next month.
"That would be great if that could happen because we work so hard together for us to play at a high standard, but I haven't really thought of it too much," he said. "In this competition with the long year you try to really only look a week in front, but it would be good to have a lot of Crusaders in the team."
Meanwhile Richie McCaw, captain once again tomorrow, said the Rebels were dangerous with players like Kurtley Beale, and Rodney Blake and Gareth Delve gave them go-forward.
The Crusaders had to deny them opportunities, he said.
"I think there's spaces you can put them under pressure and I think that's what teams have shown and that's going to be our goal, but if you don't get that going right, they can play."