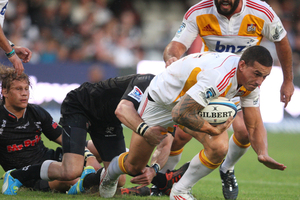 Moment-of-truth time has arrived for the Chiefs.
Nine wins in a row tends to make people stand up and take notice. The Chiefs have now moved from being a feel-good story of a franchise that has reinvented itself, to the rarefied heights of genuine title contenders.
As they drift west at 10,000m above the Tasman they would be well aware that it is not just the Reds of Queensland who lie in wait, but the Crusaders.
At seven points adrift, the buffer still looks comfortable, but a loss to the Reds and a big win by the Crusaders could trim that gap to as little as two points by the end of the round.
When you look at the run-ins of both sides, it does not take a genius to work out who would be favourites to win the New Zealand conference and, presumably, earn a week off and a home semifinal during the playoffs.
The Crusaders play four of their remaining six matches at Christchurch and travel to the easybeat Rebels this week.
The Chiefs travel for four of their six matches and their two home games are hardly gimmes.
That's why Sunday's clash against the Reds is so important. If it's all the same, the Chiefs would rather Friday, July 6, not become the decider, when they meet the Crusaders in Hamilton.
There are three other teams in the conference, but there is a creeping feeling that the conference winners will emerge from Christchurch or Hamilton.
The Highlanders may surprise and hang in there but there were signs of tiredness in South Africa and they're only ever a couple of key injuries away from trouble.
The Hurricanes are a team for the future but, you suspect, not quite ready to challenge the best at present.
The Blues? Nah.
The Chiefs meet the Reds a week after the Australians, but for a poor last 10 minutes, should have beaten an out-of-sort Crusaders.
They will have noted how the Reds have started to look more like the team that won the title last year, rather than the one that has been masquerading as the Reds for the previous nine weeks.
They have key players returning and although they could muster only 11 points in Christchurch, the way they suffocated the Crusaders into uncharacteristic errors was impressive.
The Chiefs will also have noted the physical toll that match took on the players.
It might convince coach Dave Rennie, whose side had a far less intense encounter against the Lions, to play a lot narrower than they did in Pukekohe.
Their strategy should become a little clearer when they name their team this afternoon.