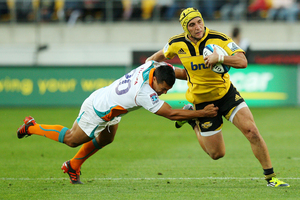 It can be a burden but Andre Taylor is flattered when they say he's like his favourite player, Christian Cullen.
The next Jonah Lomu; the next Colin Meads. Such bestowals tend to be a death knell for promising players who invariably fail to live up to the lofty expectations.
It's why we cringed when Andre Taylor's free-running game started to draw commentator comparison with Christian Cullen.
Everybody who has spent any time watching the Hurricanes this year has seen the glimpses, but few have wanted to mention it.
Some of Taylor's traits are unmistakably Cullenesque - the way he spots gaps and that rare quality of being able to change direction without sacrificing pace.
Taylor, 24, is understandably flattered by the comparisons.
"Funnily enough, when I was growing up he was my inspiration," he says. "I watched him all the time. He's a legend and it can only be a good thing to be named with him [in terms of] the style of rugby I'm playing."
Taylor earned his first-class stripes at Manawatu, a province Cullen first made the All Blacks from after transferring from neighbouring Horowhenua.
Taylor has since taken his talents to Taranaki, but the comparisons run deeper than provincial allegiance.
Cullen did some miraculous stuff in the No 15 jersey for the Hurricanes, but it was his work in a black jersey that sealed his legend. Many believe Taylor has earned a similar opportunity. He recently received an endorsement from All Black coach Steve Hansen, albeit a measured one.
"He's certainly been brilliant with ball in hand and we've asked him to look at a couple of areas of his game and if he can improve on those then he gives himself a good chance," Hansen said.
Taylor has taken those messages on board.
"They're not big things. It's about fixing little things with my passing - passing flatter - and trying to correct my kicking technique to make it as good as it can be."
Even accounting for his patchy form, Israel Dagg will start in pole position to reclaim the fullback slot for the All Blacks, but Taylor might be somebody who benefits from being part of the squad.
"There's a lot of talk going on but I'll wait until the time the team is chosen before I celebrate. Hopefully my name's selected, if not I'll try to carry on playing good footy."
Taylor makes up one-third of what has quickly become the most feared back three in the competition. In Julian Savea they have power, in Taylor pace and Cory Jane has a bit of everything, most of it top drawer.
"You've always got counter-attacking moves, but the main thing is as a back three this year we have just gone out and played what is in front of us," Taylor says. "The main reason it looks like we gel together is the fact we hang out together a lot. We're always talking about the little ways we can improve. We've got to know each other really well and our success has come down to that."
Jane's presence cannot be underestimated. The one time this season Taylor has looked a little bereft of ideas was the match against the Crusaders when Jane and Savea were ruled out on game day. Taylor still scored a nifty individual try, but at other times he looked a little like a motherless foal.
"He's played a lot of games, a lot of tests," Taylor said of Jane. "Just to have a guy like that at the back with so much experience brings confidence to the other two out there."
Taylor credits the rise of Savea, a player who received his share of criticism last year, to Jane.
"Jules [Savea] is growing in confidence and it's showing in the way he runs with the ball. Like I say, a lot of that comes down to Cory allowing him to do what he loves doing. When he gets the ball in hand he runs hard, he gets involved and he's not scared to try things this year."
Taylor makes his indoor debut tomorrow night, when the Hurricanes meet the Highlanders, a game they must win to keep any faint playoff hopes alive. Taylor adding to his eight tries will obviously help the Hurricanes' cause ... and that of the Flying Squadron too.
"It's a bunch of people like the Yellow Fever with the Phoenix," Taylor says of his curious post-try celebration. "They've just started up and are struggling to get people to join. I thought I'd try to ... get people involved."