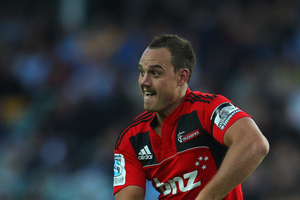 Hi Kamo,
I admit I don't really understand rugby. I started watching it with the World Cup. Now I'm following the Super 15, mainly because I'm into the virtual rugby with friends. So just a simple explanation will do for me. When a breakdown is happening, what does that mean? I use the word breakdown to mean an emotional meltdown or it's a broken down car. When I see it in rugby, are the players falling over after a tackle? Or having surplus emotions and breaking down?
Susan Vella
Miramar, Wellington
Welcome to the game, Susan. I hope you are enjoying the many emotions of our great game of rugby, including the countless ones around the breakdown area.
In simple terms, a breakdown happens when a player is tackled with the ball and a ruck is formed, involving one or more players from each team.
When the tackle is made, the tackler must release the player with the ball otherwise he is penalised.
Likewise, the ball carrier must release the ball also to allow players from both teams the opportunity to compete for it. Failure to do this will result in a penalty.
And any player competing for the ball at a breakdown must be on hisfeet.
Hi Kamo,
Do you agree Israel Dagg is not playing up to his previous standard? And what do you think of Richard Kahui?
Ray, from Stoke
Ray, I do agree with you, Israel Dagg is not playing at the very high standard we have seen from him in the past. And with the impressive play of Andre Taylor and Ben Smith in his position, this inconsistency will be putting real heat on his All Black berth.
Israel Dagg is an instinctive player, and has been at his best this year with the Crusaders from broken field play when he hasn't been restricted by structure.
Let's hope the All Black environment allows him his natural latitude and we get the dangerous Izzy back.
Richard Kahui is a gem. He has been a rock for the Chiefs in the midfield this year, but an ace for the All Blacks on the left wing - which is where I think he will end up again.
Hey Kamo,
Do you think Zac Guildford will be an All Black this year?
Kate
Yes I do, Kate. I think he will be one of four wingers picked in the All Blacks this year, and on playing form he deserves to be selected.
I like his work rate and his desire to be involved; chasing kicks, running support lines and interchanging with his back three.
I hope that with the support he has received, he will be working on the other aspects of his life that contribute to representing the All Blacks. By all accounts he has.
Gidday Kamo,
Can you please tell me what the point is of a white card, which can lead to a retrospective yellow or red card? Sure, when the offence was committed, the perpetrator was probably penalised and the offended team gained a short benefit. But they certainly did not receive the benefit of the depleted opposition brought on by a yellow/red card - something they should have obviously received.
I believe, in most cases, the white card is just an easy way for referees to flick pass their responsibilities.
Cheers, Doug
The white card has been used very sparingly this year, Doug, only 12 times in total. It is there to be used if the referees didn't get a clear view or was not certain in the identity of a perpetrator or incident but his instinct tells him an act of foal play occurred that should be reviewed by the citing commissioner.
I must say I like it, as it doesn't allow acts seen only by the TV audience to go unpunished, and is better than giving out a wrongful yellow or red.
Hi Kamo,
Following previous discussion about reset scrums, what if the props put their outside arm down and used it for leverage to hold the scrums up? There would still be collapses but this would minimise them.
Robert
The rules of the game don't allow this, and if they did the weaker opponent or scrum would benefit, taking away a core component of our game which is domination of a set phase.
While not there yet, we are seeing huge gains on our scrum success rates on the first hit which are at 60 per cent compared to 45 per cent last year.
Hi Kamo,
We're all sick of the negativity surrounding my beloved - yet failing - Blues team, but here's a positive slant ... sort of. Pat's time is up. So, who's likely to replace him and remould this shambles back into a proper Super 15 side? I've heard Vern Cotter's name mentioned, but it's unlikely he's gonna leave Clermont without some sort of progression plan for a job with the ABs.
Also heard John Kirwan may be in the reckoning and interesting that Kieran Crowley's contract with Canada is also nearly up.
Richard Doherty
Richard, I applaud the NZRU and Blues decision to advertise the head coaching job early as it gives the franchise and its supporters a real drive and focus for next year.
If it had been left till the end of the campaign - which is now mid July - they would have been playing catch-up and any potential overseas coach would be already committed and not available.
With all the talent and history the Blues have, this will be a highly sought-after position. My only recommendation is that I would prefer to see a Kiwi taking on this role.