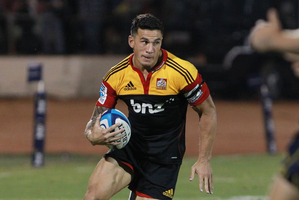 1. Game of the week
Reds v Chiefs
Brisbane, 6.10pm
Referee: Marius Jonker
TAB: Reds $1.95 Chiefs $1.80
What's not to like about this clash?
The chances are that by the time this match kicks off, SBW and Co would have been bumped off the top rung of the ladder by the Bulls or the Stormers, though the conference system means they'll still be no worse than second.
The Reds will know that with the Brumbies earning four free points courtesy of a bye, a loss here will leave them facing a near impossible task to defend their title.
It will be close and it will probably not be pretty (though surely not as ugly as last Sunday's snooze-a-thon).
Most importantly, it should give a true guide as to where both these teams are at.
2. Succession plan
Some left-field suggestions for Blues coach in 2013.
Brian Tamaki - will have them singing off the same hymn sheet; court sessions replaced by weekly tithe.
Kim Dotcom - team travel to away games in helicopter; great aftermatch parties; can sub in at tighthead.
Paula Bennett - will quickly weed out bludgers; no pay for those who don't play; can sub in at tighthead.
Piri Weepu - remember those "I've got this" pictures that went around during the World Cup? Well, he can have this; can sub in at tighthead.
John Wright - needs job; loves footy; plays guitar; is learning email.
3. Moneyball
Herald betting analyst Michael Guerin searches for weekly gems.
As the Blues and Lions attempt something new tonight - winning - punters could be advised to do the same. Rugby betting is going through a dramatic change in New Zealand, with live betting during games the big new buzz.
It gives punters the chance to try to read the pattern or momentum of a game, with the TAB updating odds every few minutes, or a giant exchange like Betfair.com seeing them change every few seconds.
While most people don't watch rugby at home with a laptop, smartphones make live betting easier for the pub watchers.
This week sees some perfect live betting games. The Blues are $1.25 to beat the Lions but if the Lions score early the odds could even up very quickly as Blues fans feel a familiar dread. In that scenario, you could actually back both teams during a game to make you a profit.
Similarly, the Reds-Chiefs odds are evenly matched but if the locals score first in Brisbane they will be hard to roll.
Bet of the week: A treble of the Crusaders-Sharks-Stormers to win, add the Chiefs if you want an extra thrill.
Twitter: @GuerinSports
4. Stat attack
If you get the sense that the footy is starting to tighten up now and become less expansive, you're right, although it's maybe not as marked as you would think.
If you break the season into four-week blocks, this one is on target to provide the least points.
Weeks 1-4: 1258 points scored (average 314.5 points per round).
Weeks 5-8: 1384 points scored (average 346 points per round).
Weeks 9-12: 908 points scored (302.6 points per round).
5. Early call
Former Springbok and Sharks hard man AJ Venter has put, in his words, his "cock on the block", in an interview with a South African rugby website.
Venter is picking a Stormers-Chiefs final to be played in Cape Town.
Explaining his call, Venter said: "The Stormers have played unbelievable rugby. I don't believe that momentum will stop.
"They'll need five or six injuries for that to happen and I feel the same way about the Chiefs."
6. Say what?
"As with all Super rugby franchises, the NZRU contracts the head coach and assistant coach of all New Zealand teams, in conjunction with each franchise."
The most relevant and, many would say, damning phrase in the press release confirming Pat Lam's job will be advertised for 2013.